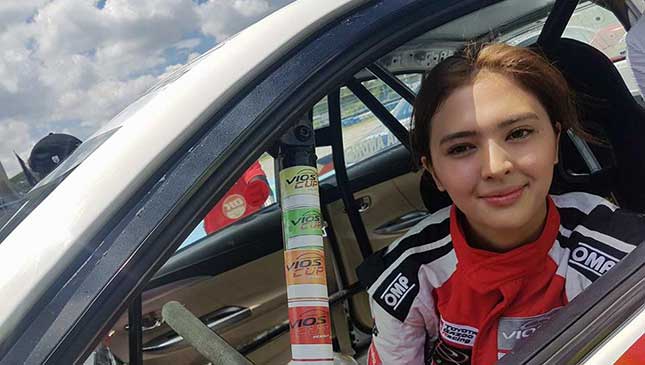 As is the annual tradition every Toyota Vios Cup, the celebrity racers made themselves available for selfies with their fans shortly before noontime.
At the Clark International Speedway, temperatures soared to 39 degrees. This barely deterred the Vios Cup racers clad in thick racing suits, who braved the intense heat to mingle with their supporters and personally thank them.
Among the celebs in attendance were Troy Montero, Fabio Ide, Sam Milby, Aubrey Miles, Diego Loyzaga, Chie Filomeno and Sofia Andres. Former Ateneo volleyball star player Gretchen Ho failed to show up.
A total of 57 participants battled for honors in three main categories: Super Sporting Class, Sporting Class and Promotional/Celebrity Class.
Continue reading below ↓
Recommended Videos
During Race 1 held at 2pm last Friday, everyone survived the scorching afternoon heat. They were still smiling after 12 laps of metal-to-pedal driving. But on Race 2 the next day, it was a different story as driving fatigue and heat exhaustion were already taking their toll on the drivers even before the start of the event.
Knowing the effects of the scorching heat, some participants were seen hydrating themselves with bottled water and energy drinks, unzipping their racing overalls down to the waistline and sheltering themselves under umbrellas. Others were much more clever. We spotted racers holding portable rechargeable fans near their faces to cool down.
While all of this was happening, most of the celebrities were busy posing for selfies with their fans, totally clueless that they will soon bear the brunt of their failure to rehydrate. Many of the celebs were first-timers in the Vios Cup.
Race 2 flagged off at almost 11am. With still three laps to go, cheering spectators spotted Race Car No. 7 crawling to the pit lane. But even before reaching the team paddock, 19-year-old actress and model Sofia Andres stopped the car, opened its door, and started vomiting on the pavement.
Alert mechanics and support crew rushed to her side, removed her helmet, undid her five-point seatbelt, and pulled her out from the bucket seat. At first, Sofia managed to stand up straight beside the Vios, but after a few seconds she blacked out.
One of the race organizers bodily carried the actress to the paddock for first-aid treatment. In just few minutes an ambulance came to her rescue.
An hour later, we received information that Sofia has regained consciousness.
Many race officials and spectators admired Sofia for driving her Vios back to the pit lane despite her deteriorating condition. Her move averted a possible major catastrophe. Imagine her passing out while pushing for more laps and ending up hitting a concrete barrier—or worse, other competitors.
Update: We edited out our supposed conversation with Sofia Andres. The actress reached out to us and said she doesn't have any official Facebook account. We have been in touch with her so stay tuned for our follow-up story.