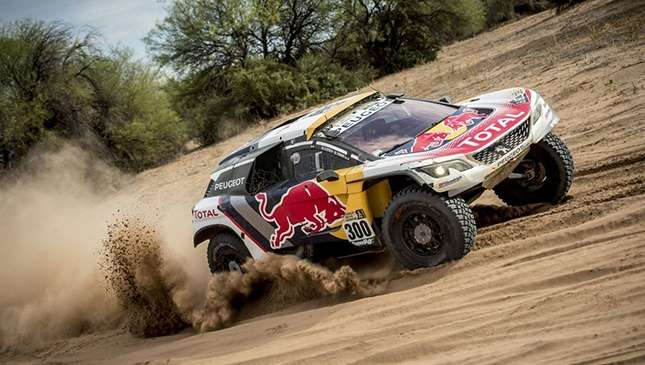 The 2017 Dakar Rally is finally over, and there's little to no doubt as to which car was the cross-country competition's top performer. Three separate Peugeot 3008s crossed the finish line in first, second and third place, capping off an epic display from the French carmaker—its most successful Dakar showing to date.
Finishing in first overall were Stéphane Peterhansel and JP Cottret in 3008 DKR #300, followed by Sébastien Loeb and Daniel Elena in #309, and Cyril Despres and Castera David in #307, respectively. Peterhansel and Cottret also took first in 2016 behind the wheel of a Peugeot 2008.
Continue reading below ↓
Recommended Videos
Peugeot's triumph is made more impressive by this year's unusually difficult conditions, which featured lots of standing water and mud. Organizers were even forced to cancel stage 9 heading to Salta, after a landslide ate up sections of road leading to the Argentine city.
The trio of 3008s traversed Paraguay, Bolivia and Argentina throughout the competition, covering a total of 8,823km over 12 legs. It was a motorsport tour de force for Peugeot, as its SUVs claimed victory over nine of the competition's 10 stages. "After such an emphatic win today, it's obviously been a positive event for us," says company sports director Bruno Famin. "We got three cars onto the podium and that's an accomplishment Peugeot and everyone at Peugeot Sport can be proud of."
Dakar 2017 champ Stéphane Peterhansel gave credit to both his fellow Peugeot drivers and competitors, saying he and his partner faced stiff competition throughout the grueling drive—most especially from rally ace and teammate Sébastien Loeb. "My duel with Sébastien was intense and also quite stressful," he said after the race. "It was never easy because Sébastien is a proven champion and extremely fast, and he has plenty of experience managing from in front, so it was never straightforward for us, as can be seen by the small gap that separated us at the finish."
Loeb shared the same sentiments, commending the event and his Peugeot teammates. "Overall, we had great fun and we ended up second on what turned out to be a highly complex event, while Peugeot ended up first, second and third. That's an extraordinary team result!"
There were a few changes in regulations at play against the 3008, most notably bigger air restrictors. But the two-wheel drive car managed to stay ahead of AWD competitors, leading to a top-spot finish. Can the company repeat its success in Dakar 2018?