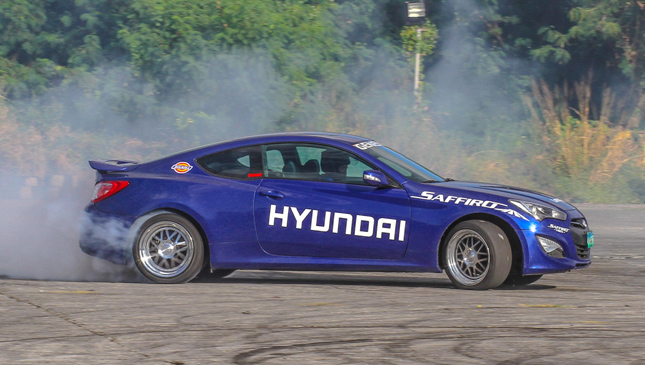 The Hyundai Media Drift Day is an introduction to the awesome motorsport called drifting. You've seen it in movies, and maybe even caught some competitions and demonstrations on YouTube. I was invited to be part of this media crash course because the organizers wanted us to experience what drifting is like from behind the steering wheel, and to see firsthand how difficult it is to master.
I'm a bit of a driving addict, and I'm down for any event that lets me get behind the wheel. And if there's a chance to burn gasoline and rubber, well, you don't have to ask me twice. Plus, drifting is really hard on a car. Would I even attempt to do it with my own Miata? Probably not. Just being honest! Good thing the manual-transmission Hyundai Genesis Coupe units provided by Hyundai Asia Resources were up to the extreme mechanical strain. The company is the main sponsor after all, and needless to say, its cars can handle the abuse that a group of wannabe drifters can dish out.
I had come away with the win for the first media drift day, but the competition had only involved doing the most number of countersteer donuts around a pylon. This was the first skill that we had to be proficient at. However, it was pretty hard to nail the next exercise--the figure of eight. Now remember, the car has to be in a constant state of drift the whole time. This particular exercise had been frustrating the hell out of me for the longest time, and unless I was able to complete it, my progress toward learning how to drift would grind to a halt.
Continue reading below ↓
Recommended Videos
After countless attempts, I finally figured it out with the help of coaches Alex Perez, Gio Rodriguez and Paolo Arespacochaga. These names should be familiar if you follow the sport. But if not, let me say that watching these dudes pilot their drift cars is a sight to behold.
I was feeling pretty confident with my figure-of-eight skills, and thought I had it locked down. But that all changed come competition time. We had to complete a very small drift course. It started with a standing start into a drift, then a 180-degree turn, which then transitioned into a 360-degree turn. We had to hold the drift the whole time. Yipes.
Charlie Cruz, president of Lateral Drift Productions, the organizer behind the competition, told us that this was the kind of pressure that went into winning a round. You can do a great routine during practice, but when it's game time you are expected to drive at a certain level. You can't make a mistake. Talk about stress!
And this is exactly why watching the Hyundai Lateral Drift Championship up close and personal is a lot of fun. After experiencing what it is like to be in the car, I now have firsthand experience with the kind of pressure involved and the high level of driving skill and focus required. It is hardcore.
The final round of the series is happening on November 28 (Saturday) at Clark International Speedway. Drift experts Kimohiro Obata and Hiromi Kajikuma from Japan will be judging. The amateur class will start at 11am on Saturday, followed by the Pro division.
In the Pro division, defending champion Gio Rodriguez of team Atoy Customs will gun for a third Lateral Drift title--unless Boodie DaBasol of team GMW catches up.
Gates open at 8am. It's your chance to see an advanced level of driving on a very fast circuit.