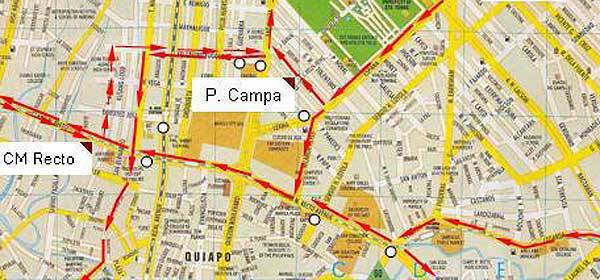 Roads in Manila are expected to be tight on January 9 as devotees observe the feast of the Black Nazarene with a procession that lasts for hours. With people flocking the streets, the traffic enforcement unit of the Manila Police District has released a rerouting guide for motorists who have no choice but pass through the city.
The southbound stretch of Quezon Boulevard from Andalucia to Fugoso to Plaza Miranda and the westbound lane of Lerma from P. Campa to Quezon Boulevard will be closed from 6 a.m. onwards.
From Quezon City via España--turn right at P. Campa, take a left on Andalucia, a right on Fugoso and another left on T. Mapua to get to destination.
Continue reading below ↓
Recommended Videos
From the northern part of Manila via the southbound stretch of Bonifacio Drive--turn right on Roberto S. Oca Street, left on Delgado, and another left on Bonifacio Drive, turn a right on A. Soriano to Magallanes Drive, take another right on P. Burgos, before heading straight to Lagusnilad to Taft Avenue.
From the southern part of Manila via P. Burgos--take T.M. Kalaw, turn left on Taft Avenue, take a right on A. Villegas and another right on Quezon Bridge.
From the southern part of Manila via the northbound lane of Roxas Boulevard-- turn right on T.M. Kalaw and left on Taft Avenue.
From Divisoria to Recto--turn left on T. Alonzo, right on Fugoso, and left on Andalucia ; from Legarda turn right on Recto or left on Mendiola.
Motorists who plan to take the northbound lane of Taft Avenue are advised to turn right on A. Villegas (Arroceros) instead and then take another right to Quezon Bridge; while those going to north or south of Manila are advised to take Lacson to Nagtahan or Road-10 to Roxas Boulevard.
Need a map? Click here:
http://www.manila.gov.ph/Images/quiaporoute1.JPG
http://www.manila.gov.ph/Images/quiaporoute2.JPG
http://www.manila.gov.ph/Images/quiaporoute3.JPG