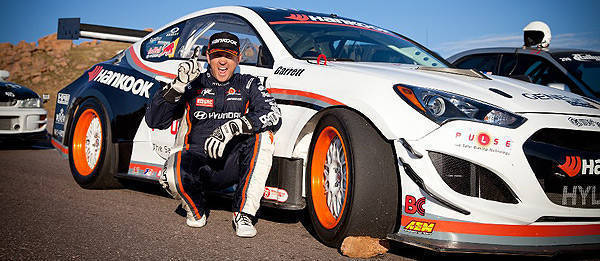 Rally driver and drifter (and recent Manila visitor) Rhys Millen now owns the record for the fastest finish of the Pikes Peak International Hill Climb course after completing it in nine minutes and 46.164 seconds. Millen's time beats by nearly five seconds the pace set by Nobuhiro "Monster" Tajima last year when the latter finished the course in nine minutes and 51.278 seconds.
Tajima's time last year was the first time in the race's 96-year history that the 10-minute barrier for navigating the course was finally broken. The Japanese's record-setting time last year, though, was done when a portion of the course was still run on dirt.
With the entire course now completely paved, it didn't take long for a few cars--and even motorcycles--to crack the 10-minute barrier. Besides Millen and his 2012 Hyundai Genesis Coupe, the only other driver-and-car tandem to break the 10-minute mark were Romain Dumas and his 2012 Porsche GT3 R, while for motorcycles, Carlin Dunne and Greg Tracy did it on their 2012 and 2010 Ducati Multistradas.
As for Tajima, his run this year in an experimental electric car ended when, according to him, he saw "smoke coming out from the motor."
"I had no choice but to stop the car so it wouldn't get any worse," added Tajima on his Facebook page. "I am very disappointed because my team and I have put in a tremendous effort to get where we are today."
Continue reading below ↓
Recommended Videos
Photo from Rhys Millen's Facebook page