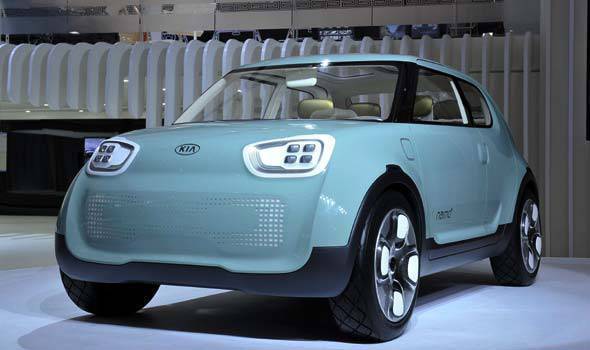 Kia Motors surprised its home-base today with the revelation of an all-electric concept vehicle, the Naimo, at the Seoul Motor Show.
The Naimo, pronounced as Ne-mo and means "square-shaped" in English, is an electric crossover vehicle with an uncomplicated overall design accentuated by key details like the wraparound windscreen, asymmetric sunroof design and front and rear dot-style LED headlamps and turn signal lights.
Kia's international design team aimed at combining "Korean heritage with innovative modern features" to come up with the Naimo. Asian influences may be seen in the overall design's Asian-style pottery, the jade color of the exterior, the oak trim on the interior door panels, and the Han-ji, or traditional handmade Korean paper, used for the head lining.
Modern touches are evident on the vehicle's use of high-intensity air jet at the base of the windscreen which serves as an "air wiper" in place of the traditional wiper blade and the replacement of conventional door mirrors with miniature cameras installed in the A-pillars.
The Kia Naimo is powered by an electric permanent magnet synchronous motor that has a maximum power output equivalent to 107hp and a maximum torque of 280Nm. The vehicle's top speed is pegged at 150kph.
The Naimo's twin-pack 27kWh lithium-ion polymer battery gives it a driving range of 200 kilometers on a single charge. The Naimo's battery may be recharged to 80 percent of its capacity within 25 minutes with a quick charging system. Under a normal cycle, 100-percent power is attained in five and a half hours.
"Naimo is a perfect balance of innovation, high-tech and Korean tradition," Kia Motors chief design officer Peter Schreyer said. "It was heavily inspired by the purity and grace of traditional Korean arts and crafts, but combines this with cutting edge technologies to deliver a truly premium experience."
Photos from Kia Motors
[gallery]853[gallery]