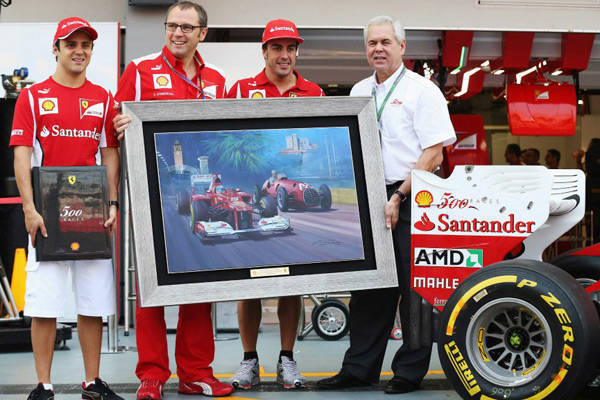 Before Formula 1 goes banzai in Suzuka this weekend for the Japanese Grand Prix, let's backtrack for a bit to the Singapore spectacle a couple of weeks ago, where Ferrari and Shell celebrated the 500th race of their successful technical partnership.
It's a tandem that has scored over 3,500 championship points, taken more than 160 race victories, and clinched 10 constructors' trophies. The current drivers' championship tally is at 12, with the 13th looking very achievable at the end of this season should Fernando Alonso be able to sustain his lead in the standings.
Ferrari president Luca di Montezemolo has gone on record to say that Alonso is "the strongest driver Ferrari has ever had," so it's no surprise that the Spaniard is featured in a special painting that Ferrari and Shell have commissioned to celebrate the '500 Races' hallmark. Beautifully crafted by Michael Turner, the piece shows Alonso driving this year's F2012 contender alongside the very first Shell-fueled Ferrari car that competed in the 1950 Monaco GP.
And guess what: You actually have a chance to win one of five exclusive prints of this painting. Simply click on this link to answer the following question: "The current Scuderia Ferrari Formula 1 car is called the F2012, but what was the model name of the car that raced at Monaco in the first Formula 1 world championship season in 1950?
Continue reading below ↓
Recommended Videos
Best be quick about it, too, because the contest will close on October 16. You might also want to watch the '500 Races' film that features exclusive and never-before-seen footage of Ferrari and Shell's six-decade relationship—it could just give a clue as to the answer you're looking for.
If you're viewing this on a mobile device and can't see the video, please click here.