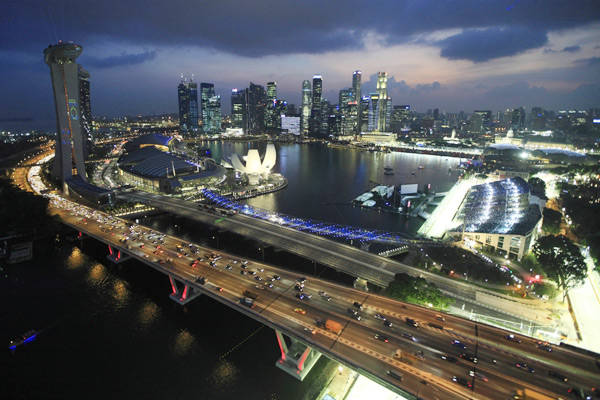 Following tedious discussions and negotiations, a new contract has been worked out to retain the Singapore Grand Prix on the Formula 1 calendar until the 2017 season.
At only its fifth staging, the venue of the sport's only night race has very much proven itself valuable not just for local tourism, but also for major businesses and sponsors that are involved in the sport for promotional purposes. And while its challenging nature isn't enough for purists to consider it alongside "true driver's tracks" like Spa or Suzuka, the Marina Bay Street Circuit provides a glamorous spectacle that attracts a broader audience into following the sport.
The contract renewal was personally announced by Formula 1 boss Bernie Ecclestone together with S. Iswaran, Singapore's senior minister for trade and industry.
"He's not easy to deal with, and I can't understand why he was complaining about us using the streets and wearing out the streets," Ecclestone jokingly said of the local official. "But we eventually got there and I'm very, very happy. We're all here for another five years."
Whether or not the Marina Bay Street Circuit's current format will be retained is still subject to discussion.
"As of now, we are looking at the options," Iswaran admitted. "The current track has served us well. We continue to see if there are any opportunities to vary or modify it, but at this stage, there are no specific plans to do so."
Continue reading below ↓
Recommended Videos
Also released over the last race weekend is the provisional calendar for the 2013 Formula 1 season. Eight of the 20 events will be held in Asia, although there are some doubts about South Korea because of financial difficulties concerning the event.
If you're interested in attending an F1 race next year, it's best to map out your plans as early as now using this tentative 2013 schedule as a guide:
March 17 - Australia
March 24 - Malaysia
April 14 - China
April 21 - Bahrain
May 12 - Spain
May 26 - Monaco
June 9 - Canada
June 16 - US (New Jersey; subject to circuit approval)
June 30 - Britain
July 21 - Germany
July 28 - Hungary
September 1 - Belgium
September 8 - Italy
September 22 - Singapore
October 6 - Japan
October 13 - South Korea
October 27 - India
November 3 - Abu Dhabi
November 17 - US (Texas)
November 24 - Brazil