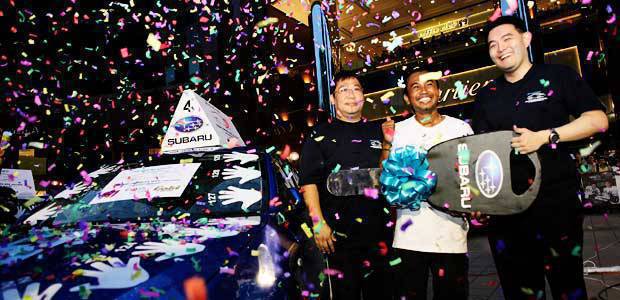 Three days of endurance and physical suffering came with a sweet ending for 40-year old Singaporean Mohamed Anuar who bagged the Subaru Impreza WRX up for grabs at the 2009 Subaru Impreza Challenge Regional Finals.
Anuar clocked 77 hours and 43 minutes in the challenge, beating countryman Santozkumar Ponsolai who unconsciously moved his hand off his designated decal during the competition. It was enough for him to bring home the brand new Subaru from Motor Image.
"I am very happy and too emotional to say anything," Anuar said after the competition. "I just want my wife and family. I miss them so much. It's been very tough."
Continue reading below ↓
Recommended Videos
Anuar received the key to a brand new Subaru Impreza WRX after beating 399 strong contenders in the challenge. The Subaru Impreza Challenge record remains at 81 hours and 32 minutes--posted by George Lee in 2008.
The last non-Singaporean to leave the challenge are was Thailand's Samach Tepsen, who won the coveted Asian winner and Country Winner titles that came with a cash prize of S$10,000.
Apple Joy Balibado was the last to call it a day among the ten Filipino finalists in the challenge. She served 57 hours in the competition--a remarkable feat as she doubled her Metro Manila record of 28 hours.
Just how hard was the challenge? Check out the videos below.
Taking a quick break...