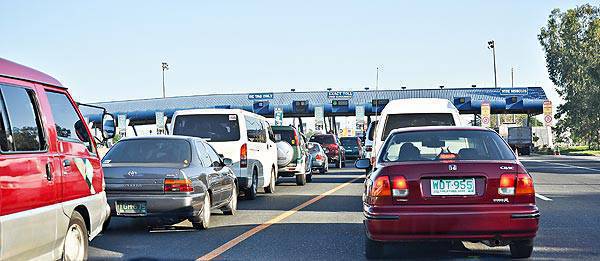 A solon has filed a bill seeking to establish motorcycle toll lanes on major toll roads between Metro Manila and its neighboring provinces to address the growing number of road accidents involving motorcycles.
According to Rep. Juan Ponce Enrile Jr. (1st District, Cagayan), author of House Bill 6136 or the "Motorcycle Toll Lanes Act of 2012," the measure seeks to protect all motorists by providing for the safe ingress and egress of motorcycles between the nearby provinces and Metro Manila.
"With the increase in the circulating population in Metro Manila, public highways and tollways have also been congested with both private and public vehicles, thus causing traffic in such areas," said Enrile. "This led to the proliferation of motorcycles plying along national roads and highways."
Enrile added that the worsening traffic congestion has forced more and more people to use motorcycles since not only are they easy to maneuver, they are also extremely fuel-efficient.
ADVERTISEMENT - CONTINUE READING BELOW ↓
"Despite these advantages, motorcycles are considered one of the high-risk vehicles," the solon noted. "In 2011, motorcycle use accounted for 2,788 accidents in the country's major highways and toll roads. This is due to insufficient rules and regulations governing motorcycle use along national roads, highways and tollways."
Based on Enrile's bill, a toll lane designed specifically for motorcycle riders will be positioned on the extreme right side of the toll plaza. Measuring half the width of a standard-sized toll lane, the motorcycle lane will be separated from the main lanes by solid white lines on either side, three or more feet from the curb. Since motorcyclists will have their own toll lane, they will then be prohibited from using the express lanes located at the leftmost portion of the tollbooths.
The bill also covers motorcycle units with an engine displacement between 100cc and 250cc, although only those with an engine displacement of at least 400cc will be allowed on toll roads more than 100km from Metro Manila.
ADVERTISEMENT - CONTINUE READING BELOW ↓
Recommended Videos