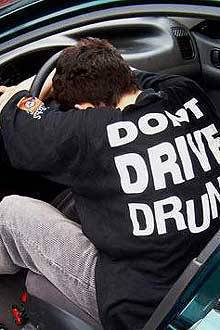 Rep. Winston Castelo (2nd District, Quezon City) is calling on his colleagues in the House of Representatives to investigate a department order issued by the Land Transportation Office (LTO) imposing high fines against violators who are caught operating a motor vehicle while driving under the influence of drugs or alcohol.
With Castelo's filing of House Resolution 2394, the lawmaker wants the House Committee on Good Government and Public Accountability to investigate not just the high penalties imposed by the LTO but that of other government agencies as well.
"The public may not have noticed the frequency of department orders imposing higher penalties that contravene the intent of the Constitution," said Castelo.
The solon pointed out that Baguio Regional Trial Court Judge Antonio Esteves has issued a five-page decision that ruled that the LTO Department Order 2998-39 implemented in March 2009 was unconstitutional.
"The LTO order raised the penalties for various traffic-rule violations as an exercise of its authority and its police power when such justification is deemed not disciplinary or punitive nor a preventive measure," Castelo added.
ADVERTISEMENT - CONTINUE READING BELOW ↓
According to Castelo, under the LTO department order, the penalty for driving under the influence of drugs or alcohol was pegged at P10,000 and P5,000, respectively.
Under the present law, however, driving under the influence of drugs or alcohol carries a P2,500 fine, imprisonment of between three and six months as prescribed by the 2003 Traffic Code for first-time offenders, and the revocation of their driver's license.
"This is something that clearly indicates that the aim was not really a valid exercise of police power of the State but more indicatively to raise funds for government coffers," Castelo said.
Now, here's our opinion on the matter: What's wrong with imposing an exorbitant fine for drunk-driving? Isn't that the whole point of it all--to make the punishment so steep as to make would-be offenders think twice before doing the deed? What do you think? Take our poll.
[poll]310[poll]
ADVERTISEMENT - CONTINUE READING BELOW ↓
Recommended Videos