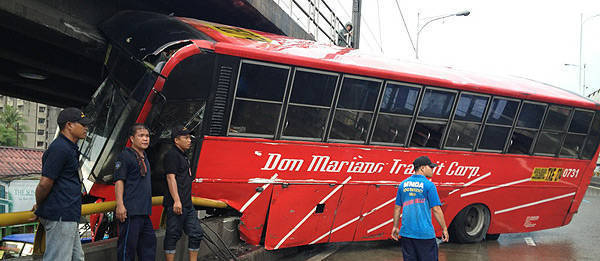 Following the accident on July 4 that saw a public-utility bus breaching the railing of the EDSA-Ortigas flyover and ramming the MRT concrete girder reportedly due to its driver sending and reading text messages on his cellphone while driving, Senator Jinggoy Estrada re-filed a legislation bill that seeks to prohibit such acts.
Senate Bill 872, which Estrada filed during the previous 14th Congress, seeks to regulate the use of mobile phones while driving "in pursuit of achieving road and travel safety."
"Absence of concentration on the road can be fatal not only to the driver and their passengers, but to other drivers, pedestrian and private properties as well," Estrada said of the bill.
The bill allows the use of mobile phones while driving provided that the driver uses a hands-free system or accessory. The bill also allows the use of mobile phones but only for emergency cases, like placing a call to a law enforcement agency, health care provider, fire department, or other emergency services.
If passed into law, apprehended violators will be fined P3,000 on their first offense, P5,000 on their second offense, and a fine of not more than P10,000 and/or imprisonment of not more than one year for the third and succeeding offense.
Continue reading below ↓
Recommended Videos
Photo from MMDA traffic discipline office chief Yves Gonzalez's Twitter account