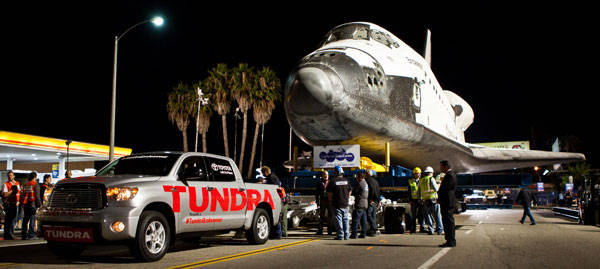 A stock 5.7-liter V8 Toyota Tundra full-size pickup truck towed the 68-ton space shuttle Endeavour to its new home last weekend. This was the result of a 20-year partnership between Toyota USA and the California Science Center "to raise awareness of the space program and continue public education through exhibits and events."
"We've partnered with the California Science Center since the early '90s as part of our ongoing commitment to inspiring youth in the fields of engineering, innovation and future technology, and we are honored to lend our support for this historic event," said Michael Rouse, Toyota USA's vice president of community affairs and philanthropy.
The shuttle's nearly 20km route through Los Angeles included traversing the Manchester Boulevard Bridge. Since that section of the trip required a lighter tow mechanism for weight-distribution purposes, Toyota worked with the Sarens Group, a heavy lifting and engineering transport company, to develop a dolly to be pulled by the Tundra to move the Endeavour over the bridge.
Longtime Toyota professional driver Matt McBride drove the Tundra and riding along was Garrett Reisman, one of the astronauts aboard the orbiter when it traveled to the International Space Station in 2008.
According to Toyota, the entire journey across the bridge from start to finish only took five minutes to complete.
Continue reading below ↓
Recommended Videos
"I'm honored to be part of the space shuttle Endeavour's final mission to the California Science Center," said Reisman. "I appreciate Toyota's support in helping bring this space icon home to the Southern California community."
If you're viewing this on a mobile device and can't see the video, please click here.