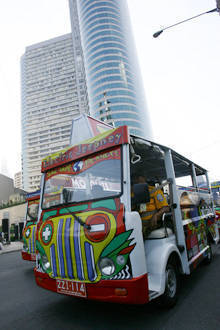 The international automotive industry estimates that electric vehicles and cars running on alternative energy sources will account for about five percent of the world's car sales in five years. How does the Philippine electric vehicle sector fit in the global scene?
Stakeholders in the EV sector are set to convene from November 23 to 24 for the 1st Philippine Electric Vehicle Summit to assess the current conditions and the future of electric vehicles in the country as well as the local consumers' willingness to adopt these new types of vehicles.
"We need to look back and see how far we've gone, what the challenges are at the moment and what needs to be done to take the domestic EV industry to the next level" Raffy Villareal, president of the Motor Vehicle Parts Manufacturers Association of the Philippines (MVPMAP), said in a statement.
Continue reading below ↓
Recommended Videos
Attending the summit are representatives from organizations like the Electric Vehicle Association of the Philippines, Institute for Climate and Sustainable Cities, World Wide Fund for Nature, Save the Air Partnership for Clean Air. With the theme The Road Forward for the Electric Vehicle Industry in the Philippines, the summit is supported by the Department of Transportation and Communications, Manila Electric Co. and Motolite Batteries.
Stakeholders expect to come up with a five-year roadmap for the Philippine EV industry during the two-day summit, said PhUV, Inc. president Ferdinand Raquelsantos. PhUV is the business arm of the MVPMAP. MVPMAP and PhUV--EV pioneers in the Philippines--design, fabricate and assemble eJeepneys, low-speed vehicles that were the first vehicles to be issued the orange-colored license plate by the Land Transportation Office.
"We have to be ready with solutions to overcome the current technical hurdles and with the needed infrastructure to enable us to grow the domestic EV market," Raquelsantos added.
Aside from technical challenges, the EV industry also faces issues on the consumer front. Studies have shown many motorists are not willing to pay a higher amount for EVs, which are usually more expensive than conventional vehicles, despite their efficiency. EVs are said to have an average efficiency of 80 percent, higher than the 15 percent registered by gasoline-fed engines and the 20 percent recorded for diesel-powered ones.
Despite the challenges, stakeholders are optimistic about the future of the EV industry in the Philippines.
"It's all-systems go," Villareal said. "After the summit, the EV industry will be ready to shift gears to accelerate its development."
Do you think more Pinoys will eventually be using EVs? Share your opinion below.