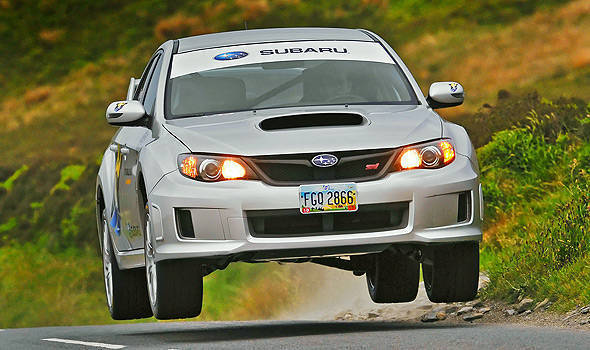 A stock Subaru Impreza WRX STI sedan has broken the 21-year road car lap record for the Isle of Man TT circuit set in June 1990 by Tony Pond.
In just his very first run around the nearly 61-kilometer course, former British Rally Champion Mark Higgins posted a lap time of 19 minutes and 56.7 seconds, which translates to an average speed of almost 182kph while the highest speed achieved in the lap was at just over 260kph. TT event organizers gave Higgins only one lap to set his record attempt, giving him no opportunity to conduct high-speed test runs.
Granted that when Pond set the record, it was in a Rover 827 Vitesse that wasn't nearly as capable as the Subaru WRX STI yet he was the first to break the average 160kph barrier in a road car while his lap record stood for 21 years prior to Higgins' record-breaking run.
A standard Subaru Impreza WRX STI production car was used to break the record, from its stock 300hp horizontally-opposed boxer engine to the unmodified brake calipers and road-legal Pirelli P Zero Trofeo tires.
The springs and dampers were adjusted, however, to minimize any potential damage when the car encountered the various high-speed bumps and jumps along the course. The car was also fitted with safety enhancements like a Motor Sports Association-specification T45 integrated roll cage, Total Restraint System race harnesses and a Lifeline extinguisher system. To help warn spectators of the arrival of the hard-charging car, the team also fitted the WRX STI with a high-decibel exhaust.
"Setting the record was both the most exhilarating and the most frightening thing I have ever done," said Higgins, who also competed in the grueling World Rally Championship. "In the end the lap was simply fantastic, and the WRX STI behaved impeccably. That we managed to set such an impressive time at our first attempt is a great tribute to the Subaru, especially given that so few modifications have been made. The engine pulled incredibly strongly throughout and the cornering capability proved crucial on such a twisty, unforgiving course."
The overall lap record holder on the TT course is John McGuinness on a Honda CBR1000RR 'Fireblade' motorcycle in 2009 when he posted a time of 17 minutes and 12.3 seconds, equivalent to an average speed of nearly 211kph.