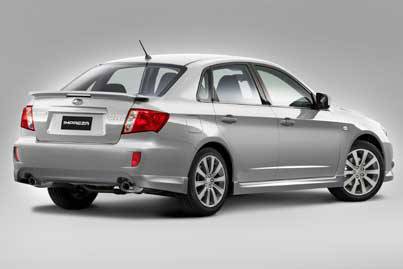 The highly-valued Subaru Impreza sedan made its Philippine debut at the recent Manila International Auto Show (MIAS).

Motor Image Pilipinas, the exclusive distributor of Subaru vehicles in the country, brought in the sedan following the sales success of the Impreza hatchback.

Upfront, the Impreza sedan looks every bit like its hatchback sibling. The most obvious difference, of course, is seen at the rear of the vehicle where one finds a spacious squared-off trunk and a set of twin exhaust pipes.

The entry-level 2.0 R Sport has 150 horsepower on tap and offers the owner a choice between a five-speed manual and a four-speed Prodrive-tuned automatic. The 227-horsepower WRX variant retains a sole transmission option: a slick five-speed manual.

Like any other Subaru vehicle, you can expect the brand's horizontally-opposed four cylinder engine and an all-wheel drive system in the Impreza sedan.

Inside, the new Imprezas sport fairly minor trim changes including new controls for the ventilation, a new center console and revised gauges for a fresh look.

No less than precision driver Russ Swift took the Impreza sedan for a spin during his stunt shows at the MIAS, where he described driving the new sedan to be nothing less than "a joy."


Continue reading below ↓
Recommended Videos