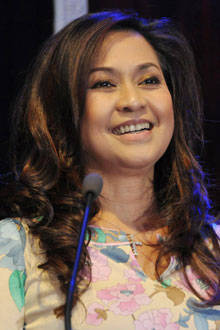 In spite of Hyundai's strong sales in the country during the opening quarter of the year, Hyundai Asia Resources president and CEO Fe Perez-Agudo says they could actually still do much better in the sales department if only they weren't plagued with supply problems. HARI reported a first-quarter sales total of 6,767 units, a remarkable 44-percent jump from the same period last year, but the chief executive of Hyundai's local distributor thinks it could have been higher if their principal company in Korea had met their demand for units.
"Right now, Hyundai Korea can only supply 70 percent of our demand," Perez-Agudo told us during a party held to celebrate the Elantra's win as the latest Philippine Car of the Year. "It's a global thing. It's a problem that isn't confined to the Philippines. There is really a supply deficit for Hyundai vehicles around the world."
Continue reading below ↓
Recommended Videos
According to the lady boss, all Hyundai vehicles sold in the Philippines come directly from South Korea, except the i10 and the Eon, which are imported from India.
"We've told our dealers not to take deposits from customers anymore," added the chief executive. "Our units get sold within two days of arriving. Nothing really stays in our stockyard."
Read between the lines and you could somehow sense that HARI thinks it could soon catch Mitsubishi and maybe Toyota in the sales race in the Philippine market. What do you think? Take the poll or post a comment.
[poll]288[poll]