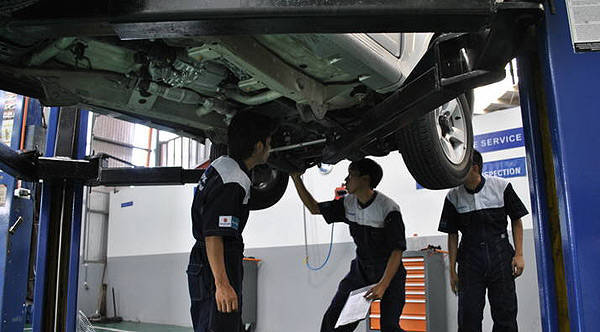 Suzuki Philippines (SPI) recently held its "Suzuki@Work" after-sales service camp, a free checkup open for Suzuki owners whose cars have an expired warranty. The program aims to foster "goodwill between dealers and customers."
"We want our customers to experience car care the Suzuki way," said SPI service manager Rommel Cabanela. "Some of our customers were not returning to the dealer for checkups because their service warranty had expired. But with Suzuki@Work, they can avail of the full checkup."
According to SPI, a service camp runs like an assembly line where each vehicle passes through three stations manned by qualified technicians.
At the first station, the vehicle's general condition is checked, with the aircon, windows, mirrors, wipers and lights being some of the parts that are examined. The hand and foot brakes are also adjusted in the first bay, while the underchassis, including the front and rear brakes and the transmission, are inspected.
At the second station, the wheel bearing, tires, power steering hoses and fluids are just some of the things checked.
Finally, at the third and last station, Suzuki engineers conduct an exhaustive inspection under the hood, with the condition of the belts, engine, engine oil, and ignition timing being thoroughly examined.
Continue reading below ↓
Recommended Videos
The whole process is documented through a service checklist that accompanies the vehicle through the three bays. The checklist also serves as proof that the vehicle has gone though the service camp. As their car passes through the three stations, the vehicle owners will get an update on their vehicle's condition and, when needed, be encouraged to avail of discounted parts and services.
To find out when and where the Suzuki@Work after-sales service camp will be next, you may call SPI's customer care hotline at (02) 902-1001 for more information, or you may visit SPI's website at www.suzuki.com.ph.