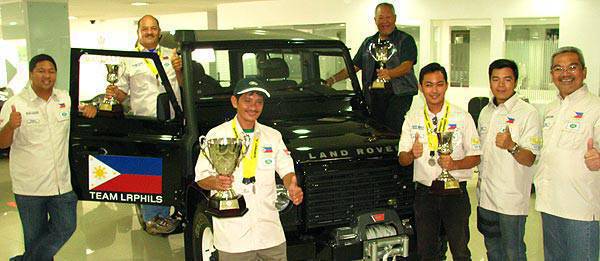 Team Land Rover Philippines (Team LRP) marked its strongest and best finish yet as it placed second at the recent Rainforest Challenge (RFC) of Malaysia in the outskirts of Johor Baru.
With father-and-son duo Hilario (driver) and Hirryan (co-driver/winchman) Mendiola assisted by mechanic Dennis Javier, the team started slowly but surely and ended up as one of the last teams to remain standing when the event was wrapped up one race short of being finished.
The race was cut short because there were not enough teams left to compete in the last special stage, Team LRP leader and consultant Robby Consunji said. It left Team Land Rover Philippines with no more chance to go for the champ's trophy.
"The vehicle of the team that finished first overall was already in trouble," Hilario said. "Their winch wasn't working anymore, their differential was damaged…if the last special stage wasn't cancelled, I believe we could've finished as the champions."
The elder Mendiola said having his son as a co-driver and a winchman was an advantage to the team as Hirryan would follow his father's orders without question. Hirryan took the place of his father's long-time co-driver, Sergio Jamilla III.
"We've wanted to use Hirryan as a co-driver with his father for a long time," Consunji said. "He's still young but he has a lot of experience in these kinds of events because of his father. He was still a minor the first time we competed; after that, he was in college, so when the chance came to finally partner him with his father, we said 'Let's do it!'"
Team Land Rover Philippines benefited from Hirryan's youthfulness as he crossed through difficult and challenging terrain without hesitation, and lasted much longer in competitions than his older counterparts. This was particularly useful when the team tackled the so-called Twilight Zone, the most difficult challenge in the event, where the team traversed 10 kilometers of heavily-forested area over mud, rocks, fallen trees and rotten vegetation for 14 hours using their winch to pull the Land Rover Defender 90 through.
Aside from finishing second overall, Team Land Rover Philippines also brought home the trophy for landing second in the above 3000cc Class, the Power Take-Off Winch class and the Prologue Team Event.
"Year after year the competition in the RFC has gotten tougher and competition stronger. For our team to place as first runner-up is nothing short of a landmark victory and is hopefully a step towards getting the championship someday," LRPhils Motors executive director Marc Soong noted. "I have always said--unlike other motorsports, off-roading is a sport in which the Filipino can dominate."
The Team Land Rover Philippines' Defender 90 was one of the least-modified vehicles and it is also one of the only "pure" Land Rovers in the competition.
"We are extremely happy with the performance of our Land Rover Defender 90 and our team, Larry and Hirryan, have shown the world our excellence in off-roading," Soong said. "They were simply brilliant."
[gallery]677[gallery]