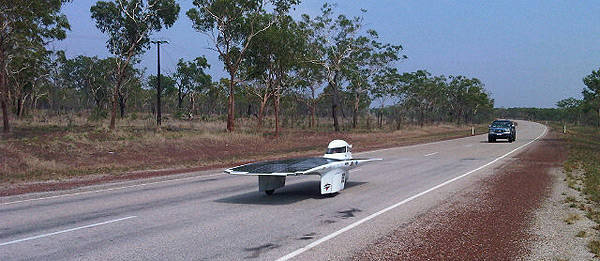 The 2011 World Solar Challenge is officially underway, with the race kicking off on October 16, a day after Team Solar Philippines' Sikat II passed the procedural "static scrutineering" and "dynamic scrutineering" conducted by the World Solar Challenge committee.
Both scrutineering tests determines the qualification of the car to join the 3,000-kilometer cross-continent race from Darwin to Adelaide. Sikat II, which was made by the mechanical and electronics and communications engineering students from De La Salle University (DLSU), passed tests for batteries, solar cells, measurements and overall safety based on the rules and regulations set by the World Solar Challenge committee.
"We feel relieved. After several days of mechanical and electrical works as well as test runs, we got the green light to be part of this prestigious race of the world's best solar cars. We are very honored to represent the country," said team leader Jack Catalan, a professor of Electronics and Communications Engineering at DLSU.
A total of 37 cars are now racing across the Australian continent and as of today, Team Solar Philippines is in 24th place, six places higher after it closed its first day in 30th place. The team expects to reach the finish line after four to five days of driving in the Australian outback just in time for the awarding ceremonies in Adelaide City on October 23.
Continue reading below ↓
Recommended Videos
Photo from Sikat II Solar Car's Twitter page