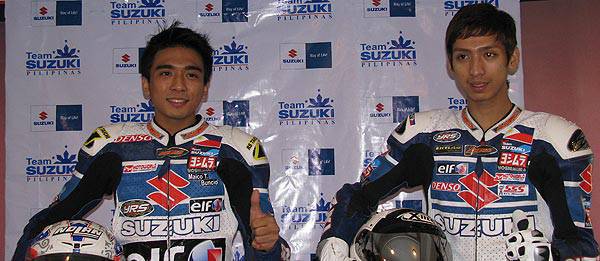 The country's most successful motorcycle racing team--with 19 titles in eight different competitions in the last seven years--is setting its goals much higher this year as the Suzuki Racing Team goes international to compete in the 2011 Asian Road Racing Championship (ARRC).
"We believe we've shown all that we can do here in the Philippines so now's the perfect time to prove ourselves in an international racing series like the ARRC," said Eiji Kobayashi, general manager for Suzuki Philippines' motorcycle sales and marketing.
For the series, the team will be known as Team Suzuki Pilipinas as it has been endorsed as the country's official racing team by the Philippine Sports Commission (PSC).
"We have seen the potential of motorcycle racing as a grassroots sport and that's why we're throwing our support behind Team Suzuki Pilipinas," added PSC chairman Ricardo Garcia.
For the 2011 races, Team Suzuki Pilipinas will be fielding multiple superbike champion Maico Greg Buncio in the SuperSports 600cc platform while John Lery Enriquez will show off his skills and talent in the Underbone 115cc category. For the SuperSports 600cc series, Buncio will be using the Suzuki GSXR 600cc while Enriquez will be racing with a Suzuki Smash 115.
Continue reading below ↓
Recommended Videos
"Everybody knows these two are the best riders," said Suzuki Philippines' assistant general manager for motorcycle sales and marketing Benedict Arreola. "For us to have a chance to win or even get a podium finish in the ARRC, we need very good riders."
As the ARRC will be the very first international competition for the team, Arreola, who also serves as Suzuki Pilipinas's team principal, is realistic when it comes to the team's goals for the series.
"We hope to finish within the top 10 for this year but I've known our two riders for years so I know they won't be content unless we win a race," revealed Arreola. "A team from Thailand won a race in their very first year so it's not impossible."
Arreola added that the participation of Team Suzuki Pilipinas in the ARRC is for the long run. The team plans to be a consistent podium finisher in 2012 and a championship contender in 2013.
As neophytes in the international series, Team Suzuki Pilipinas will, for this season at least, utilize experienced Indonesian mechanics to provide technical support for Enriquez's bike while Buncio's superbike will be serviced by Yoshimura Racing Technology, one of Japan's top motorcycle racing company.
"What we'll learn from them this year, we hope to cascade down to our local technicians so that, hopefully a couple of years from now, we'll be sending a 100-percent Filipino team to the races," Arreola shared.
The first round for the 2011 ARRC will take place from April 28 to May 1 at the Sepang Circuit in Malaysia. The second leg will be held in Sentul Circuit, Indonesia on June 9 to 12, followed by the third leg at the Madras Circuit in India on August 4 to 7. Round 4 is set on September 8 to 11 in Japan's Autopolis Circuit while Zhuhai International Circuit in China plays host to round 5 on October 27 to 30. The sixth and final leg of the ARRC's 2011 season will then be staged at the Losail Circuit in Qatar from December 8 to 11.