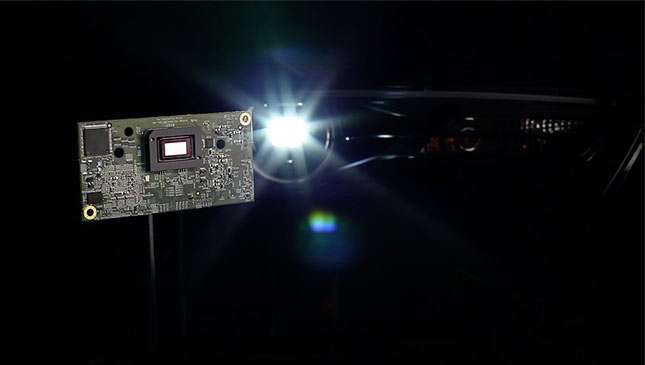 You know how you're always griping about running into motorists with their high beams on? Well, just thank God that these babies aren't available here yet.
Texas Instruments (TI) unveiled its new Digital Light Processing (DLP) tech at the 2018 Consumer Electronics Show. The company claims its DLP5531-Q1 chipset is the only product in the market "that combines full programmability and the highest resolution." So, what's that supposed to mean? Well, the new headlight system can be programmed to provide "more than one million addressable pixels per headlight."
In short, these lamps are really, really damn bright. According to Texas Instruments, this exceeds the resolution of existing adaptive driving beams by more than 10,000 times. This tech, it says, will "maximize brightness for drivers on the road while minimizing the glare to oncoming traffic or reflections from retroreflective traffic signs."
So, no need to wear shades in the dead of night then? Apparently, not. Because headlights equipped with TI's new DLP can have individual pixels "partially or fully dimmed." This allows for more precise and better controlled light distribution. This way, drivers can have their high beams on without blinding other motorists. Another application of the product is in automotive head-up displays, too.
ADVERTISEMENT - CONTINUE READING BELOW ↓
As of now, automakers and suppliers are still testing the DLP5531-Q1 chipset for high-resolution headlight systems. Texas Instruments says the market can expect broader availability by the second half of this year. So, looking for an upgrade?
ADVERTISEMENT - CONTINUE READING BELOW ↓
Recommended Videos