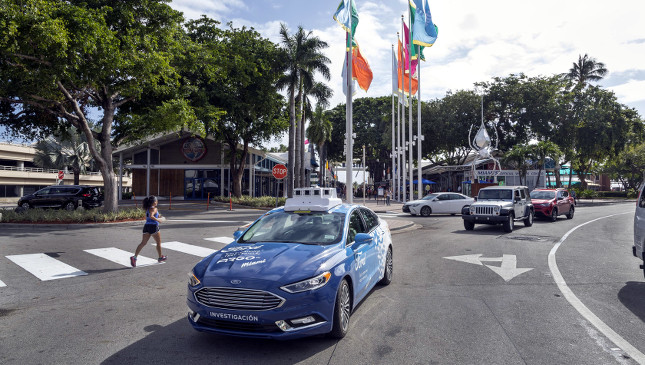 Automotive companies currently in the race to develop self-driving cars may be zealously committed to perfecting the technology, but a 2018 study revealed that most drivers are having second thoughts about taking their eyes off the road and their hands off the wheel.

Conducted by Cox Automotive in May, the Evolution of Mobility Study on Autonomous Vehicles showed that 84% of respondents "want the option to drive themselves even in a self-driving vehicle," while the remaining 16% said they'd be fine with the car doing its own thing at all times. Fewer respondents likewise believe that roads "would be safer if all vehicles were fully autonomous" than if they were driver-operated, with the number going down by 18 percentage points in the last two years.

What's more, 49% of respondents said they "would never buy a Level 5 vehicle." Level 5, aka full automation, is the highest of the six levels of autonomous driving as defined by the Society of Automotive Engineers; on the opposite end is Level 0, in which the driver alone is responsible for vehicle operation.

Among Generation Z (ages 12 to 22) and millennial (ages 23 to 36) participants, only 48% and 39%, respectively, were against purchasing a Level 5 vehicle. It appears that millennials are thus the most accepting of fully automated motoring out of all the age groups—but in another survey, conducted by the American Automobile Association (AAA) also in May, 64% of millennial respondents were afraid to ride in a Level 5 vehicle, from just 49% in late 2017.

AAA's report attributes this shift to "high-profile incidents involving autonomous vehicle technologies," namely, the Uber self-driving car incident that resulted in the death of a pedestrian in March. Following the accident, 73% of AAA's survey participants said they "would be too afraid to ride in a fully self-driving vehicle," up from 63% in 2017.

Despite this, 54% of respondents in Cox Automotive's study believe that semi-autonomous features—particularly collision-warning and collision-avoidance systems—make them better drivers. Classified mainly as Level 2, these are found on most current models, and are now preferred over Level 4 autonomous-driving technologies that consumers said they wanted two years ago.

The study concludes that these changes in consumer perception doesn't mean that road users have developed a total distrust for self-driving cars—instead, they are reassessing these vehicles based on what they've come to learn about automated driving systems.

"There is a major opportunity, and a real need, for automakers and mobility providers to help educate consumers and further guide autonomous vehicles in their development," said Joe George, president of Cox Automotive Mobility Solutions Group. "Autonomous safety feature adoption will be critical in creating future autonomous technology advocates."

In a suitable environment (i.e., in another country), would you be willing to participate in a real-world test of fully self-driving vehicles?
Continue reading below ↓
Recommended Videos