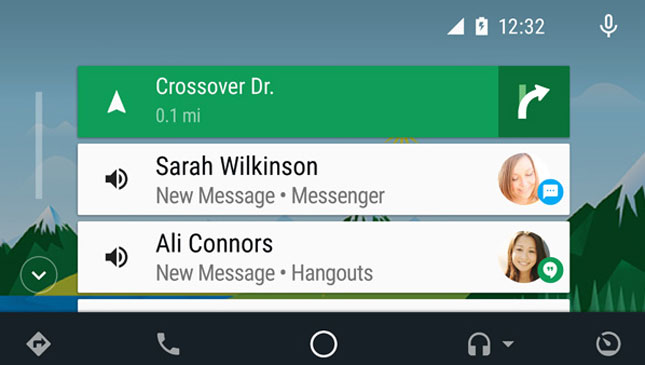 Android Auto and Apple CarPlay are fast becoming a major part of the automotive landscape. Many new vehicles are now becoming compatible with the two smartphone operating systems via their infotainment systems. This allows drivers to stay in touch while still keeping their eyes on the road and their hands on the wheel.
Google, however, seems bent on making its Android platform the standard when it comes to automotive connectivity. According to a report by Automotive News, the California-based tech firm has revealed its latest strategy that aims to do just that.
It begins with the roll-out of a new interface known as Android N at the Google I/O Developer Conference. The latest software not only allows users to hook up with the car's infotainment system and operate their devices hands-free, but will also work with key in-car components such as the climate control, digital instrument cluster and, of course, the audio system.
To show off what it was talking about, Google equipped a Maserati Ghibli with a 15-inch touchscreen and an instrument cluster that ran on Qualcomm's Snapdragon 820 chip. This made it simpler to integrate the Android operating system with the car and control vital functions and use various apps.
Apart from Android N, Google will soon launch a stand-alone Android Auto app for smartphones. This will allow mobile-phone users who still don't have the connectivity feature on their cars to enjoy its many features. This also allows drivers to focus on driving while still being able to utilize such apps as Spotify or Google Maps. The tech giant may even use Bluetooth pairing to help the phone know when the driver enters the car. This will aid in the company's goal of fewer accidents in this age of distracted drivers.
ADVERTISEMENT - CONTINUE READING BELOW ↓
And speaking of Android Auto, Google is planning several key updates to the system. One is the use of "hotwording." Specifically, the phrase "Okay, Google" may just be the cue to execute commands like placing a call, sending a message, or playing a music track. Then there is a possibility of rolling out its very own version of the popular Waze application.
Finally, the Android Auto app may soon be able to sync with one's vehicle without the use of physical cables. At present, the plan is to do so using Wi-Fi.
Whatever they come up with, it's pretty cool that Google is working hard to make the Android OS a huge part of our motoring lives. What will they think of next?
ADVERTISEMENT - CONTINUE READING BELOW ↓
Recommended Videos