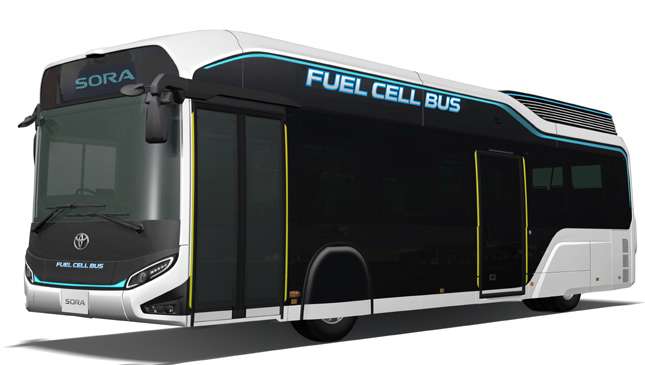 Over the past few weeks, Toyota has steadily set itself up as one of the biggest exhibitors for this year's Tokyo Motor Show. Sports cars, luxury sedans, futuristic concepts and revived icons—you name it, and chances are the Japanese carmaker will be fielding something of the sort next week.
Despite all the big teases leading up to the event, we have to say Toyota's latest might be the most intriguing. The Toyota Sora fuel cell bus concept is the company's attempt at a comfortable, practical, and environmental-friendly form of mass transport. By the looks of it, it's succeeded, too.
Continue reading below ↓
Recommended Videos
You see, despite the 'concept' tag, the Sora is already planned for commercial availability by next year. The hope is that more than 100 Sora units will be out and about in the Tokyo metropolitan area by the time the Olympics hit in 2020.
Toyota says it paid close attention to "convenience, safety, and peace of mind with the aim to give all passengers a pleasant riding experience, so that they would want to ride the buses regularly." The vehicle is equipped with horizontal seats and automatic storage units for wheelchairs, strollers and the like. High-definition cameras are placed both inside and outside of the bus to help it better detect pedestrians, too.
Now here's something bus operators in the Philippines may want to look into. The Sora is equipped with acceleration control which "suppresses sudden acceleration" for gentle stop and go movement. What's more, this gives standing passengers a more comfortable commuting experience. Lastly, the Sora can detect bus stops and position itself accordingly for easy in and out.
The Sora has a capacity of up to 79 people (driver included) and runs on a fuel cell system adopted from the Toyota Mirai capable of 306hp and 670Nm. We'll be sure to give you guys more of the Sora when we see it in the metal at next week's Tokyo Motor Show.