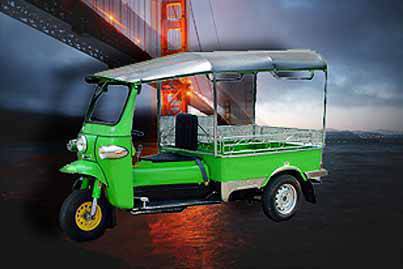 Thailand's three-wheeler charm is headed to fulfill an American dream.
Tuk Tuk U.S.A., Inc. has received the approval of the U.S. Department of Transportation and the Environmental Protection Agency to sell its line of three-wheelers. Both approvals serve as the green light for the tuk-tuks to ply U.S. roads.
The tuk-tuk, as it is called in Southeast Asia because of the sound coming from its engine, looks like a crossbreed as it sports scooter's front and a passenger car's compartment.
Tuk Tuk U.S.A. will be selling passenger and commercial variants of the three-wheelers with a price tag ranging from US$9,650 to US$15,000. Options include models which can carry three to 12 passengers, as well those that can serve as a pickup truck, dump truck, a flatbed carrier or a utility truck. The company will also offer bare "drive away" chassis for do-it-yourself tuk-tuk projects.
Continue reading below ↓
Recommended Videos
All variants will run on an all-new Mitsubishi-sourced water-cooled 650cc engine. Tuk-tuks for three and six passengers, as well as the L53T truck, come with four-speed transmission and reverse option; while commercial ones and the variant for 12 passengers can run in five speeds and in reverse.
Other standard features on the tuk-tuks include the front disk and rear drum brakes, headlamps and wipers.