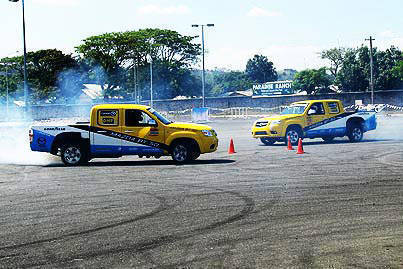 (UPDATED VIDEO) The term "drifting" conjures images of modified cars that look so light and so close to the ground to maximize aerodynamics while turning.
Cars that are commonly used for this motorsport are the Nissan Silvia, the Mazda RX-7 and the Toyota AE86 as seen on the anime, Initial D.
With success seen in these cars, who in his right mind would think of professionally competing in the local drift scene using a hefty and muscular pickup truck? The answer lies in JP Tuason.
An accomplished racecar driver, Tuason has joined and won every possible motorsport series in the country - from karting to Asian Formula 3. Curiosity in drifting, which is now one of the hottest motorsports in the Philippines, got him thinking of using a pickup truck as his drift vehicle.
Tuason, who heads the Tuason Racing School (TRS), pitched his idea of using a pickup truck for drifting over a conversation with Ford Group Philippines president Richard Baker and vice president for marketing and sales Steven Tan. With Ford having a controlling stake in Mazda, Baker and Tan were keen on the idea of letting Tuason use the Mazda BT-50 for drifting.
ADVERTISEMENT - CONTINUE READING BELOW ↓
"They were very enthusiastic about it," Tuason said.
One month and two modified Mazda BT-50 pickup trucks later, the TRS Drift Team was born. It is a pioneer in many ways - the first local drift team backed by a manufacturer, it is the only drift truck team in the world, and it is the only team to use a diesel-powered machine for professional drifting.
The TRS Drift Team composed of Tuason himself, Mike Tuason, John Tyrell Esguerra, James Deakin, and Francisco Blanco placed fourth among 40 teams on its competitive debut at the second round of the Castrol Edge Drift Underground Series.
The public can expect to see more of the TRS Drift Team as the motorsport becomes more popular in the Philippines. But Tuason said TRS will go beyond competitive exhibitions to spread awareness and love about the sport.
The TRS team will conduct one-day drift clinics and look for drifting prodigies.
"If he or she is good enough, (we will) recruit them to join our team. That would be something - to turn someone with no drift background whatsoever into a drift car driver in one day," Tuason said.