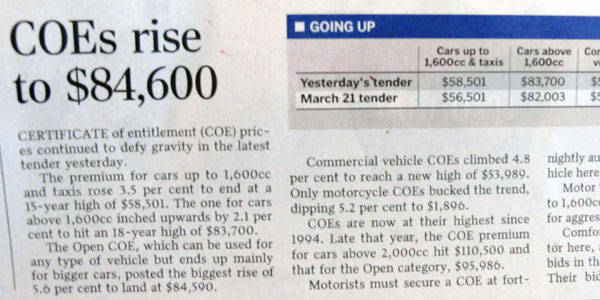 Here's another blessing Filipino car owners need to be thankful for: Unlike our Singaporean counterparts, we don't need to acquire an expensive "Certificate of Entitlement" just for the right to purchase a new vehicle. Yes, in Singapore, before you can buy a car, you need to first pay for a COE. In other words, apart from the actual price of the car, you also pay for the mere right to own one. This is to regulate car sales in a small place in which there aren't that many roads to drive on.
And just how much is this Certificate of Entitlement?
The Straits Times reported last week the updated rates of the COE for Singaporean car buyers, which, according to the newspaper, are "the highest since the mid-1990s."
For cars with an engine displacement of 1,600cc, the COE now costs 58,501 SGD (Singapore dollars), or P1,991,241 based on current foreign exchange rates.
For cars with an engine displacement of more than 1,600cc, the COE now costs 83,700 SGD, or P2,848,744.
For commercial vehicles, the COE now costs 53,989 SGD, or P1,837,536.
For motorcycles, the COE now costs 1,896 SGD, or P64,533.
The so-called "open COE," which can be used for any type of motor vehicle, now costs 84,590 SGD, or P2,879,011.
Continue reading below ↓
Recommended Videos
So...feeling a bit more fortunate now?