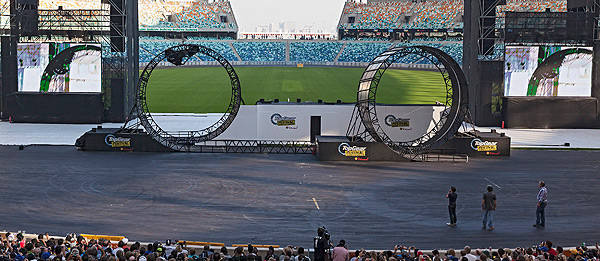 Last June, the Top Gear Live stunt team made a world record when it successfully completed the world's first double loop-the-loop stunt on four wheels. This coming weekend, the troupe hopes to establish another world record by completing the first double loop-the-loop on a motorcycle at the Top Gear Live shows to be held at the Birmingham National Exhibition Center from October 25 to 28.
"We were all very pleased with our collective bravery when we set a new Guinness World Record by sending a car through a double loop-the-loop, but it got us thinking: Could we perform the same feat if we removed 50 percent of the wheels as well as the roof and the steering wheel?" said Top Gear Live creative director Rowland French. "In other words, on a motorbike!"
The stunt, which goes by the name "Deadly 720+," will be attempted using the same 8m-tall pair of steel loops that were used to achieve the double loop-the-loop car stunt last June. This time, though, the speed required to successfully compete the stunt is much higher with the standard KTM 250 SX-F motorcycle--equipped with recalibrated dampers to cope with the stunt's extreme demands--needing to travel between 43kph and 47kph "to avoid tumbling out of the loops or the possibility of the rider blacking out."
Continue reading below ↓
Recommended Videos
Best of luck to the stunt team.