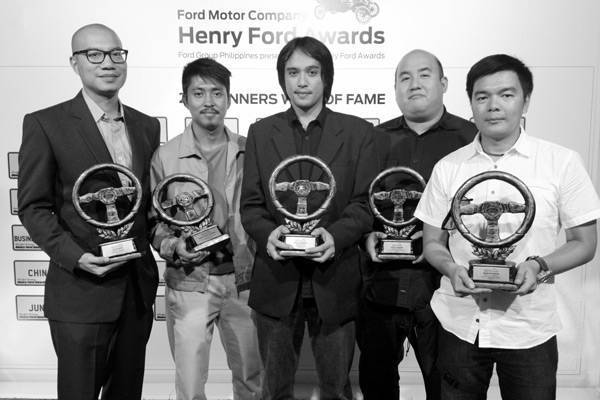 Top Gear Philippines won five of the 12 trophies handed out at this year's Henry Ford Awards, the industry's only award-giving body in motoring journalism. This marks the seventh straight year that the country's leading automotive publication and website bagged the most number of awards at the HFA. This is the 12th year that Ford has given out the awards, which aim to uplift the caliber of automotive journalism in the Philippines.
Paulo Subido won "Best Automotive Blog" for his Rust 'N' Pieces blog on TopGear.com.ph. Dinzo Tabamo won "Best Green Technology Feature Story" for his "Smoke Gets In Your Eyes" article in Top Gear Philippines' August 2012 issue. Kai Huang won "Best Published Photograph" for his Subaru XV photo in the magazine's April 2012 issue. Igor Maminta won "Best Published Ford Photograph" for his snapshot of the Ford Focus's push-start button in the magazine's August 2012 issue. And Marco Paolo Subido won "Best Automotive Video" for his Toyota 86 video, Here Comes The Rock Star, posted on TopGear.com.ph on June 17, 2012.
"We always look forward to hosting the annual Henry Ford Awards and celebrating the excellence of automotive journalism in the Philippines," said Ford Philippines president Randy Krieger. "On our 12th year, we thank our partners in the media for their continued commitment to accurate news information and for helping us tell our One Ford story to our customers."
Continue reading below ↓
Recommended Videos
Fast Times, the motoring section of The Manila Times, was named "Best Newspaper Motoring Section" for the second straight year. Top Bikes editor-in-chief and Top Gear Philippines writer Brian Afuang is the section's editor.
This year's panel of judges included Danilo Arao, assistant vice president for public affairs at the University of the Philippines; Dr. Francince Racho, assistant professor and vice dean at the University of Asia and the Pacific; Severino Sarmenta Jr., broadcast journalist; David Celdran, ANC host and producer; Alnair Langkay, creative director of Ogilvy & Mather; Revoli Cortez, photojournalist; Miguel Miranda, advertising photographer; Jonel Borromeo, Ford dealer principal; and Minnie Valencia, sales and marketing vice president of Ford Philippines.
The other winners at this year's Henry Ford Awards were Iñigo Roces ("Best Smart Technology Feature Story" for AutoIndustriya and "Best Ford Go Further Feature Story" for Manila Bulletin), Jason Ang ("Best Automotive Feature Story" for Philippine Daily Inquirer), Kap Aguila ("Best Automotive Column" for Philippine Star), Kevin Limjoco ("Best Ford Feature Story" for C!), and Ulysses Ang ("Best Automotive Online Feature Story" for CarGuide.ph).