Because it's Father's Day on Sunday, June 17, we asked you last week to send us a motoring-themed photo of your dad and tell us why this picture is dear to you. The 10 best ones, we said, would be posted here and the 10 fathers would get via delivery on their special day a Big Breakfast meal from McDonald's, which includes two English muffins, scrambled eggs, sausage, hash browns and a cup of McCafe premium roast coffee.
We have to admit we had a hard time choosing from all the entries. It's not always easy picking the cream of the crop when basically the entire batch is excellent. But we need to choose just 10. These photos got our nod with their balanced mix of quality and sentimentality. That's not to say that those that didn't make it to the top 10 are lacking in the two aforementioned criteria. It's just that we liked some photos better than the others.
ADVERTISEMENT - CONTINUE READING BELOW ↓
As a compromise, we're also posting here 10 runner-up photos. All we can say is that your fathers are lucky to have you. We hope you had fun gathering these photos as we did looking at them. We've forwarded the contact details of the 10 winners to McDonald's for the Big Breakfast delivery.
May you all have a memorable Father's Day on Sunday. Thank you all for joining.
Winner #1 - Aeron Gerich Co: "I caught my dad cleaning his car one Sunday morning. It shows the love and care he has for his car. As his son, I believe that if he loves and cares for his car, what more for his only son (we're only two, my elder sister and I)? I can feel that he is a truly responsible and great dad. I love you, dad. Happy Father's Day!"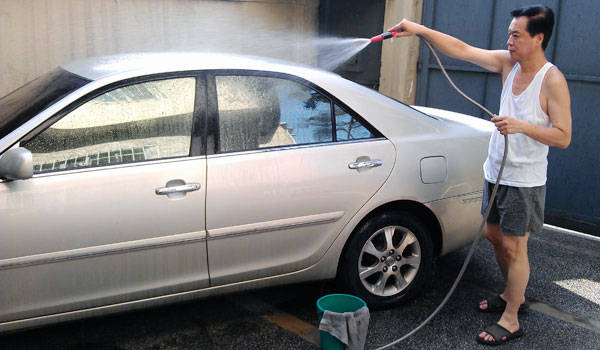 ADVERTISEMENT - CONTINUE READING BELOW ↓
Recommended Videos
Winner #2 - Archangel Atienza: "This photo was taken 16 years ago, if I'm not mistaken. That's my dad and his beloved Mitsubishi Celeste. This car meant a lot to him. A lot of time and effort were put into this car. He did some modifications to the engine and a little bit on the exterior and the interior. I remember the day when he needed to let go of his beloved car to sustain our family business. I could see the sadness in him as I also felt the loss of our family car. Then again, I know that he made the right decision; that was a good call on the part of a very responsible father. Happy Father's Day!!! I wish my father would see this on your website."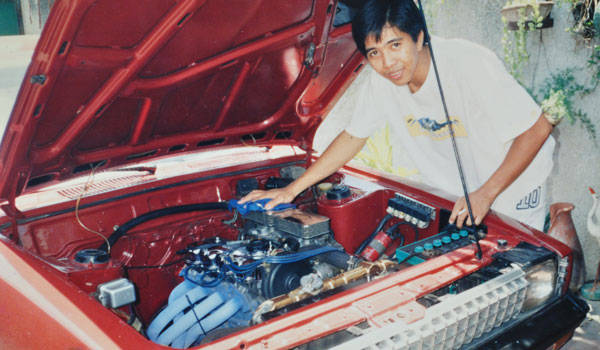 ADVERTISEMENT - CONTINUE READING BELOW ↓
Winner #3 - Brian Jhocson: "Here's my father posing beside his newly painted Ford Escort Mexico Mk1 that he really loved and cared for. With the help of friends, he transplanted a 2.0-liter Ford Cortina engine into this Mk1 and even played around with the final gear ratio for top speed. Man, was it fast! This picture reminds me of how I came to be as passionate as my dad when it comes to cars--especially rally cars of the '80s and early '90s. Given the chance, I would definitely buy a Mk1 again and restore it for him."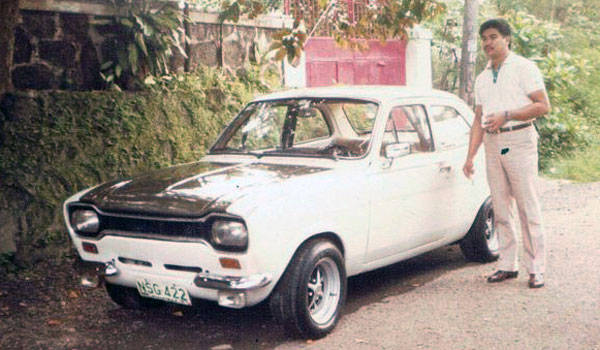 ADVERTISEMENT - CONTINUE READING BELOW ↓
Winner #4 - Carlos Miguel Castro: "This is a photo of my dad and his first car, a 1972 Opel Manta, which he bought in 1977 with his first earned lucky money. In this picture, we attended the Old School Pilipinas Grand Meeting held on Banawe, Quezon City, last March. My dad enjoyed the gathering as he saw different old-school cars from his time. And as we were about to go home that evening, my dad said, 'Just like old times,' and smiled. Priceless. I'm so lucky and proud to have a dad like him."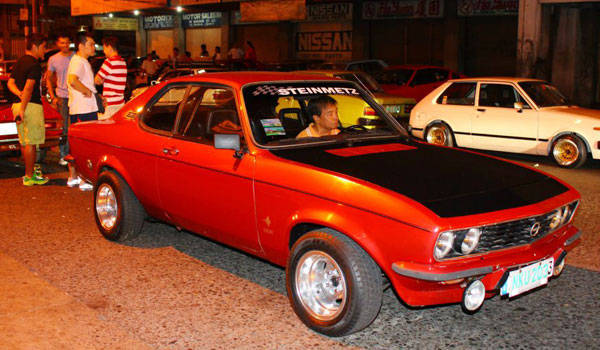 ADVERTISEMENT - CONTINUE READING BELOW ↓
Winner #5 - JC Trinidad: "What is really special about this photo is how much it brings back the memories from when I was a little kid. I usually sat in the front passenger seat, and closely watched him drive his 1970s Toyota Sprinter. He even taught me how to shift through the gears when I was still in elementary school. He also told me how he maintained his car to an almost mint condition, keeping it squeaky clean and mechanically sound. I remember we did not have the A/C working, so we had the windows rolled down. I really enjoyed hearing the sound coming out of the car's exhaust. My special thanks and appreciation to the greatest dad in the universe. I love you, dad! Thanks for everything, and happy Father's Day!"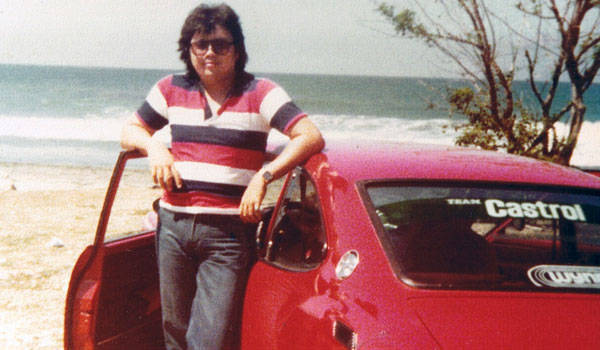 ADVERTISEMENT - CONTINUE READING BELOW ↓
Winner #6 - Joemar Carlos: "My father, Cornelio F. Carlos, is the one wearing a necktie. He headed the design team of the first-ever AUV, the Ford Fiera. This picture was taken at the assembly line of the Ford plant in Muntinlupa back then. I am very proud of my father's achievements in the automotive industry. I remember in those days, no matter how busy my papa was at work, he always found time to play with us--like on the test track of Ford, which we fondly called the 'roller coaster'. My papa would say, 'Let's ride the roller coaster,' and we would scream and laugh as he drove us around the track in a Ford Fiera."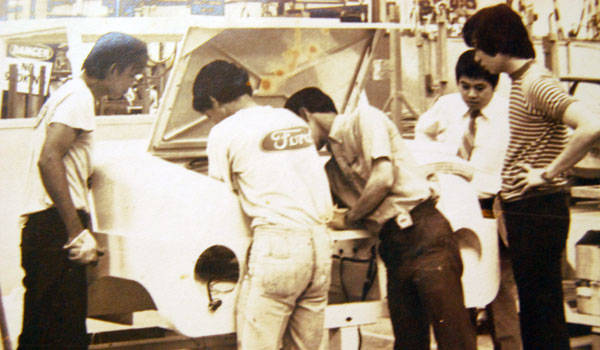 ADVERTISEMENT - CONTINUE READING BELOW ↓
Winner #7 - Martin Allan Diez: "This is my dad, Manuel 'Sonny' Diez, in front of his latest vehicle, a Mazda BT-50. He has his thumb up because he is very happy about the vehicle's fuel consumption of 12km/L. He never fails to share and discuss features of his cars--from his old 1965 Ford Mustang to a hand-built buggy to his current Hyundai Tiburon and Suzuki Jimny. I blame him for making me a car-crazy person as he got me started at an early age. Dad, I cannot remember the last time I said this to you: I love you and happy Father's Day!"
ADVERTISEMENT - CONTINUE READING BELOW ↓
Winner #8 - Michael Edward Belmonte: "The two cars in the picture are the fruits of my father's hard work at the company he is working for. After almost 17 years of raising me and my two other siblings, he deserves to have these cars. This is the time he deserves to be recognized for all the hard work he has done for us. One of my favorite pastimes is discussing cars with my dad. He gets to learn from me, and I get to learn from him."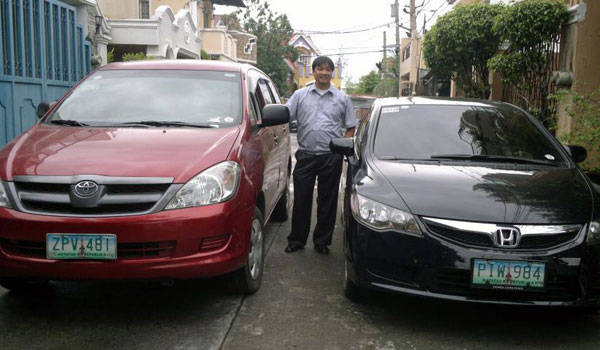 ADVERTISEMENT - CONTINUE READING BELOW ↓
Winner #9 - Richard Villarin: "My dad was a taxi driver for more than 30 years--practically my whole life since I was born. Driving a cab was his way of supporting our family. And now that he's 74, he deserves to be sitting in the passenger seat instead. Here he is posing beside a luxurious vehicle. But I swear that all the taxicabs he drove felt more luxurious than this one."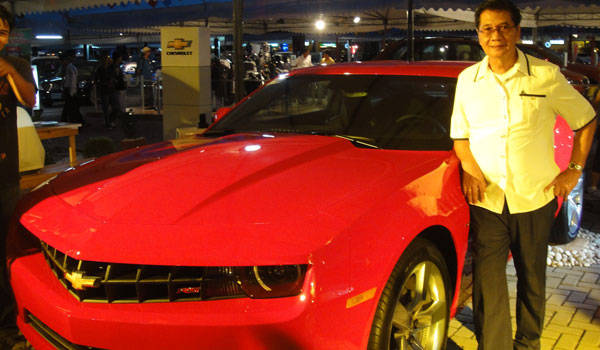 ADVERTISEMENT - CONTINUE READING BELOW ↓
Winner #10 - Will Anthony Villar: "I just want to give my dad a present on Father's Day for all the sacrifices he and my mom gave us six siblings just so we could finish school and have a better future. After my mom gave birth to our eldest sibling, my dad knew he would not be able to buy a Ford Mustang or a Land Rover Defender that he really wanted. Even if my dad is a complete car nut, he deprived himself of his dream machines. He sacrificed his dreams to make ours a reality. I'm the youngest. Now that I'm working on my own, my dad can now spend his money on what he really wanted to buy back then: a Mustang and a Defender. I wish to show the world how hard-working our dad is. With this picture, I hope to repay him even just a bit."
ADVERTISEMENT - CONTINUE READING BELOW ↓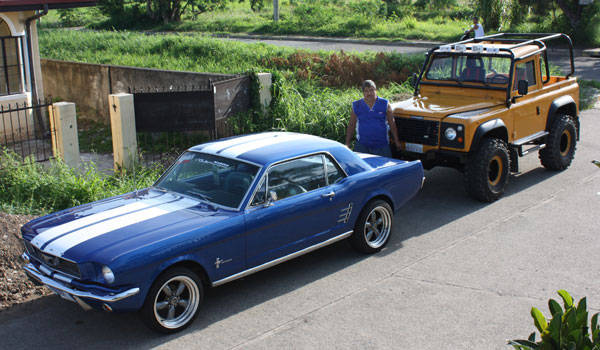 Runner-up #1 - Carlo Ablaza: "Sending you a photo of my car-crazy old man with his truck. He loved working on it until he had nothing else to fix."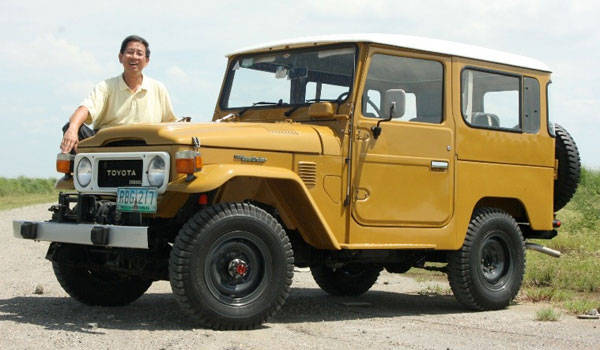 ADVERTISEMENT - CONTINUE READING BELOW ↓
Runner-up #2 - Christian Earl Tuvera: "This photo is such an inspiration to me. My dad used to dream of owning the car beside him--and now he owns one. He proved to me that with hard work, determination and patience, almost anything is possible. To the greatest car nerd I know, happy Father's Day, dad."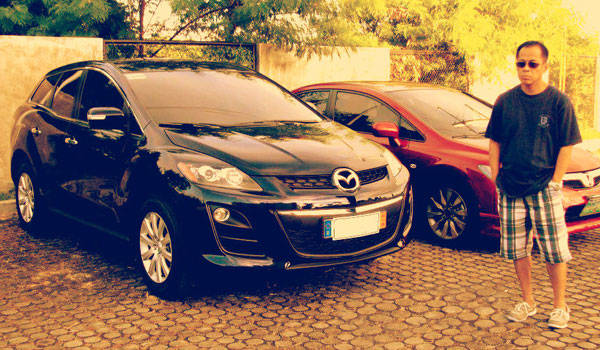 ADVERTISEMENT - CONTINUE READING BELOW ↓
Runner-up #3 - Jeanie Fitch: "Attached is a photo of my camera-crazy and petrolhead husband Elmer Maniebo, who is an uber-cool dad to our seven-year-old son Ethan. I've selected a photo that Elmer and Ethan shot together in our Peugeot 307SW--in the middle of the night, probably around 11pm, when every child in Britain should be in bed asleep--at an empty roundabout near where we live. It's a long-exposure shot with Ethan in the backseat firing his Nikon flash a couple of times. It's a collaboration between a father whose passion for photography and machine leaves no boundaries, and a son who adores him so well. May their friendship, love and respect for each other last forever, beyond cars and photography. Happy Father's Day to all hard-working dads out there! More power to Top Gear Philippines!"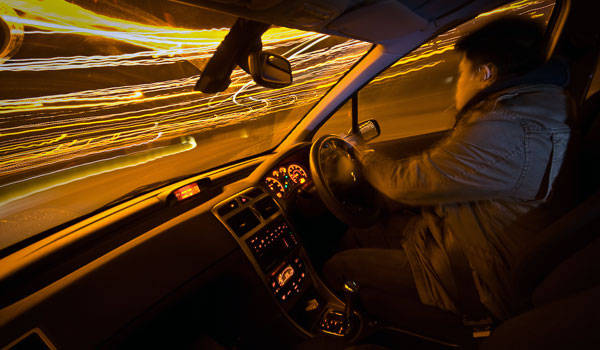 ADVERTISEMENT - CONTINUE READING BELOW ↓
Runner-up #4 - Jordan Sy: "I would like to submit a photo of my dad with his old 1990 Mercedes-Benz 300E. This is an old photo and we already sold the car to its mechanic five years ago. Nevertheless, this photo of my dad and his Benz is truly special to me. That Benz was always there for our family, in good and bad times, and never got tired of serving us just like how much my dad takes good care of the family. From being a Sunday-only vehicle, it became our daily driver and even our business delivery car when crisis hit our family. This picture always reminds me to endure trials and challenges, and to never give up faith to succeed. It is one of the best lessons that my dad gave me."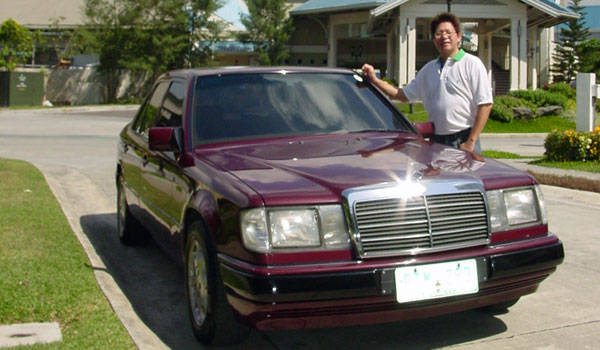 ADVERTISEMENT - CONTINUE READING BELOW ↓
Runner-up #5 - Kenneth Llave: "After a day of hunting for car parts on Banawe, my dad told me: 'Nothing is possible without you working hard for it.' Since I'm currently a student and have no source of income yet, I owe everything to my dad for supporting my passion for all things cars. I wouldn't be who I am now without him. I truly am proud of my dad, and am very thankful for having him as my father. I do hope that one day, I'd be able to be just as good of an inspiring father to my kids, as he is to me."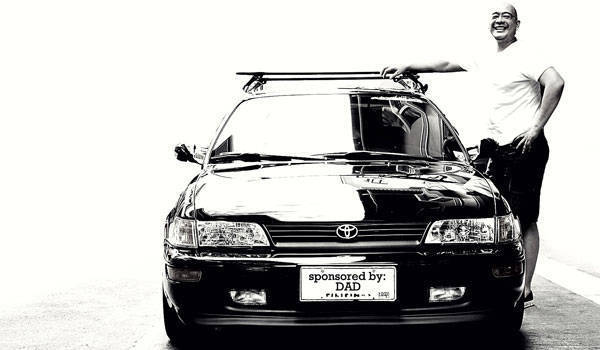 ADVERTISEMENT - CONTINUE READING BELOW ↓
Runner-up #6 - Leonides Suguitan: "I want to share this photo of my father, Leandro C. Suguitan. This was taken in front of my parents' house after I was born in 1984. And that was my parents' second car, a 1984 Ford Laser, before they had a Ford Escort. We still have the Laser, which I've been using since my college days. My father has been working in Saudi Arabia since 1984. I am currently 27 years old, and that is the number of years my father has been working as an OFW."
ADVERTISEMENT - CONTINUE READING BELOW ↓
Runner-up #7 - Marvin Ledesma: "This is a picture of my dad in Singapore. He asked me to take pictures of him in the Porsche 911 Carrera. If you look closely, something is not right in the photo. Mom left her handbag in the car! Way to look cool, dad!"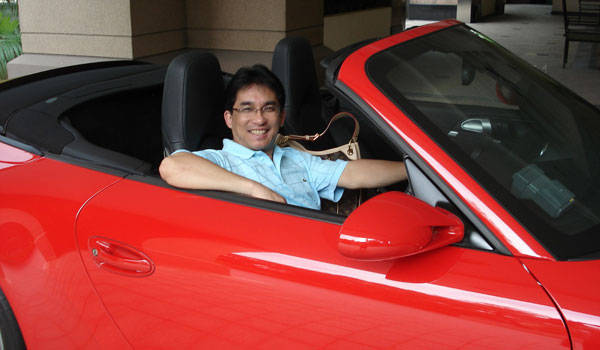 Runner-up #8 - Mike Lacuesta: "It is an understatement to say that my dad knows his car--how to drive and take care of it. This Isuzu Gemini served us for 21 years. We all learned to drive in this Gemini. It was really part of our family. As we are grown-ups now with cars of our own, we can't help but smile when we remember dad behind the wheel of the car that served our family for two decades."
ADVERTISEMENT - CONTINUE READING BELOW ↓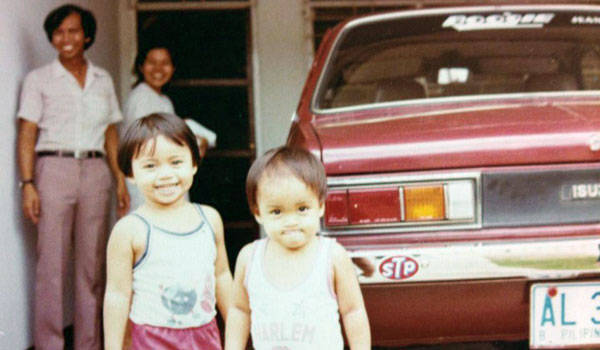 Runner-up #9 - Obeng Gozun: "This photo was taken at Honda Makati in 1993, with my dad and mom. Behind us is my first brand-new car (a Civic hatchback), a gift from my dad (Attorney Ricardo Bermudo) that still always reminds me of how great and loving a father he is. I hope this picture lands a spot in your website's Father's Day feature. Happy Father's Day, dad! We love you!"
ADVERTISEMENT - CONTINUE READING BELOW ↓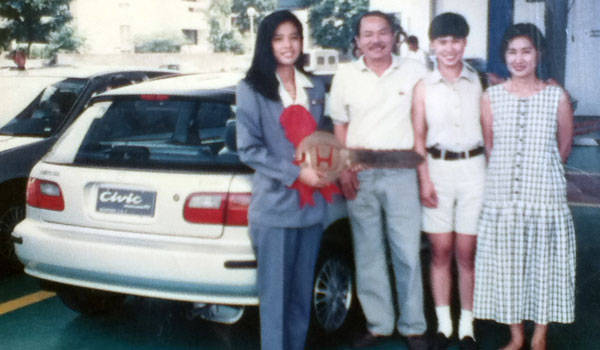 Runner-up #10 - Vir John Fajardo: "This photo was taken while we were transporting a nun to Lucban, Quezon. My father is always busy at work during weekdays, and at church during weekends. Because I am in college, we don't have the time to actually bond. That is why in order to show my appreciation to him, I clean his ride, and I see to it that when I clean it, it will look like brand-new. I know dad is having a rough time right now, due to the fact that he's paying for my education as well as the monthly amortization of the car (which will be fully paid in January 2013). I just want to make my dad happy this Father's Day."
ADVERTISEMENT - CONTINUE READING BELOW ↓