Renowned racing driver JP Tuason believes the children are the future of motorsports, so he wants to teach them well and let them lead the way. Okay, so maybe the previous sentence was blatantly lifted from the classic George Benson song, but the point is that JP's outfit, Tuason Racing School, sees so much potential in small kids that it wants to train them for a possible career in car racing.
In partnership with Castrol, Tuason Racing has launched its "Champions of the Future" program, which aims to discover the next generation of Filipino racing drivers. It is open to children 7 to 13 years of age. Tuason is inviting kids to join this program by asking one simple question: "Do you dream of becoming a race car driver?" If a child's answer to the question is yes, Tuason is encouraging his or her parents to send him or her to a series of karting clinics (the first one was held last January 16, while the next three will be held on January 30 in Carmona, February 13 at Boomland in Pasay, and March 6 in Carmona).
A total of 20 scholarship seats will be granted during these karting clinics. The top 20 kids will receive subsidies to be able to race in the 2011 Castrol Champions of the Future series. The four-leg karting series is scheduled on March 13 at Boomland, March 20 in Carmona, April 10 at Boomland, and April 24 in Carmona.
Continue reading below ↓
Recommended Videos
Top Gear Philippines has been handpicked by the organizers to be the official media partner of Champions of the Future, together with another Summit Media publication, K-Zone. Photo shows the program's sponsors during the contract signing: (seated, from left) Top Gear Philippines publisher Chad Rosario, AUTS Racing's Martin Alvendia, Castrol Philippines' Ariel de Jesus, Bridgestone Philippines' Marc Tagle; (standing, from left) Top Gear Philippines editor-in-chief Vernon B. Sarne, Tuason Racing's Brenda Tuason, and Automobile Association Philippines' Mark Desales.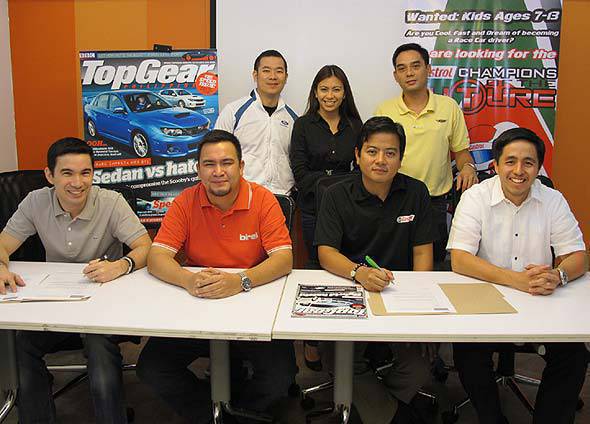 If you feel your kid may be the next Sebastian Vettel, you may call (02) 817-7795 for inquiries.