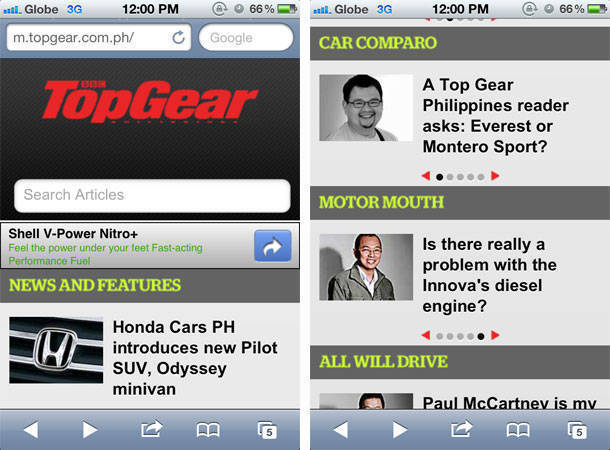 Before anything else, we would like to thank our dear readers/visitors for supporting TopGear.com.ph. You inspire us to come up with fresh and relevant material every single day of the week. It gives us nothing but pleasure to know that you enjoy what we serve up on this site.
But we also know that we can still do more to enhance your viewing/browsing experience. It is for this reason that we have launched a mobile version for our website, so that those who visit TopGear.com.ph on their mobile phones will have a more seamless way of using the site. Pictured here are sample screenshots of our website's mobile version. As you can see, it's sized just right to fit the screen of the average mobile phone. No more fiddling with your thumb just to view the entirety of a page.
Should you wish to view the normal version of our website on your handheld device, there is a button that gives you the option to "view the full site."
ADVERTISEMENT - CONTINUE READING BELOW ↓
We concede, however, that the mobile version is still far from perfect as we have just launched it. Feel free to report to us--either through the comment box below or by e-mailing us at topgear@summitmedia.com.ph--any glitches you might encounter.
Have fun browsing!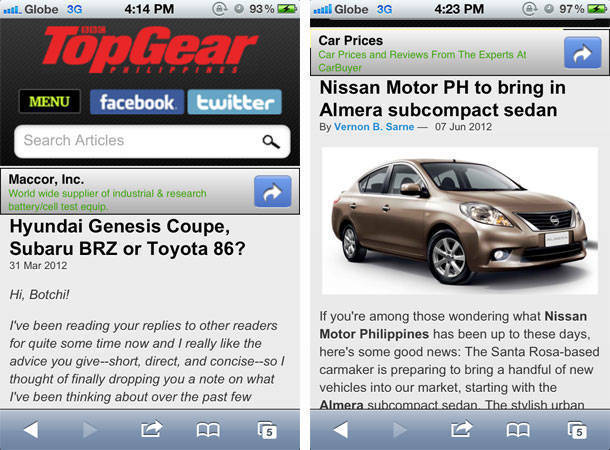 ADVERTISEMENT - CONTINUE READING BELOW ↓
Recommended Videos