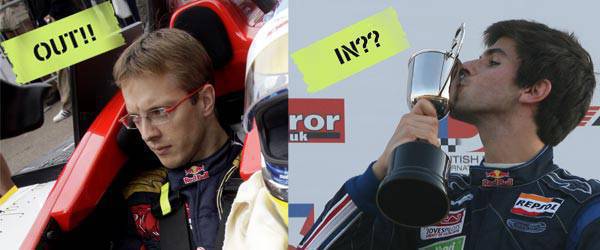 A lackluster performance has led to a bitter end for Formula One driver Sébastien Bourdais' relationship with Toro Rosso.

Toro Rosso team principal Fraz Tost said a new driver will replace Bourdais, who has been with the team for one and a half seasons.

"In Sébastien's second year with us, the partnership has not met our expectations and therefore we have decided to replace him as from the next round of the World Championship, the Hungarian Grand Prix," Tost said in a statement. The Hungarian Grand Prix is on July 26.

Bourdais joined Toro Rosso after four consecutive victories from 2004 to 2007 in the America's Champ Car Series.

He spent his first year adjusting to the demands of F1 racing and scored only four points from two seventh-place finishes on his first season. On the other hand, his teammate Sebastian Vettel proved to be more valuable after he won Toro Rosso's first victory last year.

Many expected Bourdais to have already adjusted to the rigors of F1 and dominate his new teammate, Swiss rookie Sebastien Buemi this time around. But after scoring only two points from two eighth-place finishes compared to Buemi's three points, the team decided to dump Bourdais.

Bourdais is now mulling the possibility of suing Toro Rosso following the team's announcement to replace him.

"I consider that, in doing so, Scuderia Toro Rosso has breached its contractual duties towards me; also I believe that nothing in my behavior would legitimate a decision of the team to terminate the contract... I have instructed my lawyers to review the situation," Bourdais said in a statement .

Toro Rosso has yet to make an official announcement about Bourdais' replacement but F1 observers expect the appointment of Jaime Alguersari in time for the Hungarian Grand Prix. If this pushes through, Alguesari would be the youngest driver to join F1 at the age of 19 years and 125 days.

Continue reading below ↓
Recommended Videos