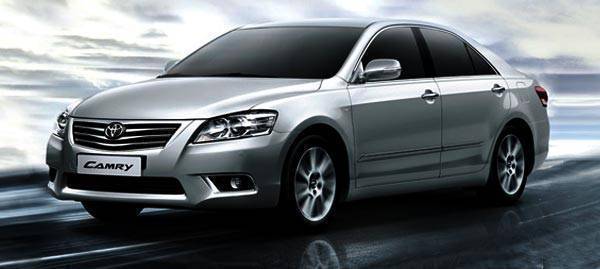 Toyota Motor Philippines hopes to cement its grip on the premium luxury car market with the introduction of the 2010 Camry.
The 2010 Toyota Camry comes with subtle fascia changes, which includes smoother lines on the bumper and a more aggressive looking grille. Toyota also refreshed the Camry's headlamp and rear combination lamps.
On the inside, the Camry hopes to be more visually appealing with its new speedometer design, and more entertaining with the addition of an auxiliary input system for external audio systems.
"We are confident that the 2010 Camry will further reinforce Toyota's image in terms of premium luxury, advanced technology and uncompromising power in a midsize sedan," said Raymond Rodriguez, Toyota first vice president for vehicle sales operations.
Continue reading below ↓
Recommended Videos
The 2010 Toyota Camry will remain powered by a DOHC engine in three variants: 2.4G, 2.4V and 3.5Q.
"The Camry has been a source of pride for Toyota for many years since it arrived in the Philippines. True to its nature, the Camry exemplified true leadership as it constantly dominates the medium passenger/executive sedan segment," Rodriguez said.
Prices for the latest Camry range from P1.451 million to P2.01 million.
The 2010 Camry comes in grey metallic (new color), white pearl, black mica, silver metallic, beige metallic.