Executives from Toyota Motor Co. in Japan recently visited the Philippines for the second phase of the company's tree-planting project in Peñablanca, Cagayan, situated about 500 kilometers north of Metro Manila.
Under the Philippine Peñablanca Sustainable Reforestation Project - Phase 2, volunteers from Toyota Motor Philippines, a subsidiary of Toyota Japan, are set to plant trees in a 728-hectare area over the next three years. Phase 1 involved the planting of 1.36 million mango and other fruit-bearing trees in 1,772ha from September 2007 to July 2010. Trees used for fuel wood were also planted.
Toyota has placed a reforestation capital of Y350 million or P180 million for the Peñablanca project but the company and its partners--the Department of Environment and Natural Resources, the Peñablanca local government and the non-government group Conservation International--will strive to "establish a sustainable system that the local community can implement to continue reforestation activities by themselves even after the project term."
ADVERTISEMENT - CONTINUE READING BELOW ↓
To make this possible, the Peñablanca Sustainable Reforestation Project ensure 10 percent of the income from the sale of mangoes will be invested in a tree-planting fund, which in turn will be used for the maintenance and expansion of the forest. The fund will be managed by a cooperative in each barangay, Toyota said.
Toyota Japan's senior managing director, Nobuyori Kodaira, said the company's reforestation project is a testament to Toyota's commitment to contribute beyond the economic growth of the Philippines.
"One of the major markets of Toyota is the Philippines and we'd like to do a wide range of activities in the Philippines, not just producing vehicles," Kodaira said during the signing ceremony for the Peñablanca reforestation project.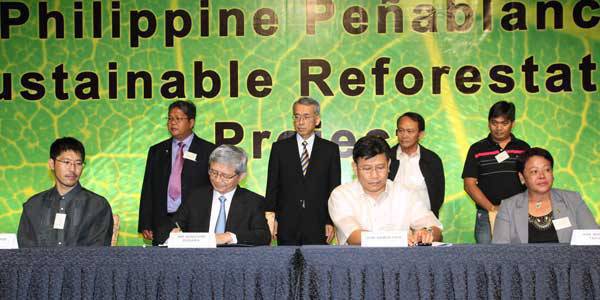 Toyota Motor Corp. of Japan senior managing director Nobuyori Kodaira (second from left) and Philippine Department of Environment and Natural Resources Secretary Ramon Paje (second from right) sign the memorandum of understanding for the Philippine Peñablanca Sustainable Reforestation Project.