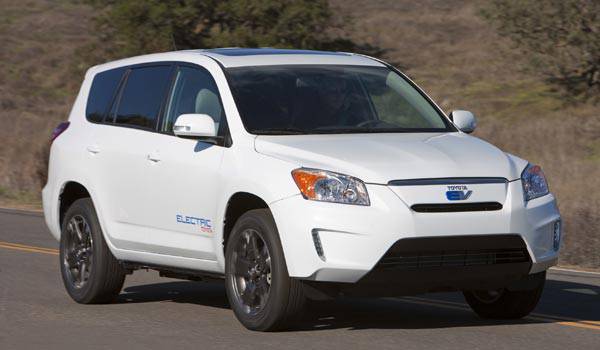 In November last year, Toyota unveiled the second-generation RAV4 EV at the Los Angeles Auto Show. You might recall that the very first electric version of the RAV4 came into being in 1997 as the Japanese carmaker's response to California's zero-emission vehicle mandate. The first RAV4 EV was powered by a nickel-metal hydride battery pack, yielding a range of 130-180km on a single battery charge. However, the first-gen RAV4 EV was only moderately successful, selling or leasing a mere 1,484 units. Today, Toyota claims there are still 746 first-generation RAV4 EVs running on American roads.
It's only natural, then, for Toyota to have high hopes for the second version of the RAV4 EV. Announced at the LA auto show last year was the fact that "35 vehicles will be built for a demonstration and evaluation program through 2011, aiming at market arrival of a fully-engineered vehicle in 2012. The fully-engineered vehicle will have a target range of 160km in actual road driving patterns, in a wide range of climates and conditions."
Continue reading below ↓
Recommended Videos
The lithium metal oxide battery pack for the new RAV4 EV--which currently weighs 220 pounds heavier than a RAV4 V6 but accelerates from zero to 100kph almost just as quickly--will be built and supplied by Tesla.
However, due to some ambiguity surrounding the November 2010 reveal of the new RAV4 EV, there have been talks about its limited availability, which Toyota feels the need to correct. In a press statement released yesterday, the carmaker said:
"Recent reports have incorrectly stated that the 2012 RAV4 EV will only be marketed to fleet and car-sharing programs. We'd like to set the record straight: The 2012 RAV4 EV will definitely be sold to the general public. We anticipate robust public interest in the RAV4 EV, and are keen to inform consumers that their future vehicle options include a battery electric Toyota. Toyota is the only manufacturer bringing two battery electric vehicles to the market in 2012: the RAV4 EV and the Scion iQ EV. While the RAV4 EV will be available to the public, the Scion iQ EV will be marketed to fleet and car-sharing programs only."
So there, people. Get ready for some electric motoring.