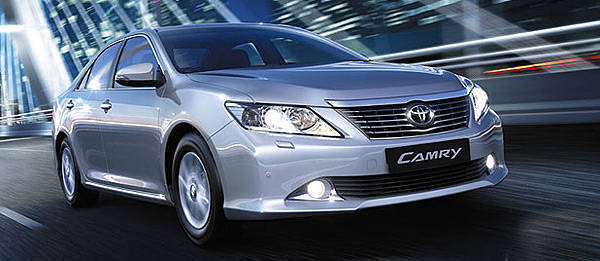 If you're one of the many people who found the angular design of the all-new Toyota Camry a little disconcerting, then perhaps you'd prefer the more elegant front fascia it sports in other markets.
While the United States market was the first to reveal the Camry's all-new look, other countries have started revealing what the model looks like in their market. One example is Toyota Ukraine. While there's hardly anything different between the US- and Ukraine-market Camry in terms of specs, the design of the front fascia is different as it nixes the US-market Camry's sport-oriented look for a more traditional one.
Gone are the angular headlights, body-colored grille and sharply-styled bumper, and in its place are classic rectangular headlights, chrome grille and an understated bumper.
Even the design of the rear is different as the Ukraine-model Camry gets a pair of conventional-looking two-piece taillights that are joined at the center of the boot lid by a wide chrome strip.
Before the all-new Camry reaches our market, let Toyota Motor Philippines know which look you prefer by posting a comment below.
[gallery]1020[gallery]
Continue reading below ↓
Recommended Videos