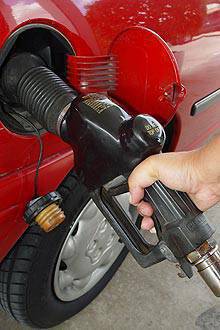 Call it coincidental but the most recent oil price hike came just as a solon filed a bill that will push all fuel companies to become more transparent with their pricing practices.
If House Bill 4893 authored by Rep. Romeo Acop of the second district of Antipolo City is enacted into law, oil companies will no longer be allowed to implement unwarranted increases--or even decreases--in the prices of oil and other petroleum products without the approval of the Department of Energy (DOE).
According to Acop, if petroleum companies are seeking to change the prices of their products, they must first submit their account books and other financial documents, "including their verified assumptions and computations used in the determination of price adjustments in the petroleum products," to the DOE. As part of its monitoring task, the department will then determine if a price increase is warranted or not.
"Submission of these documents is mandatory and non-compliance will be punishable under the existing provisions of the law," said Acop who is also the vice chairman of the House of Representatives' committee on public order and safety. "On the basis of these documents and data, the DOE is directed to evaluate the necessity of such price increases or decreases and the reasonability of the amounts of increase or decrease, as the case may be."
Continue reading below ↓
Recommended Videos
House Bill 4893 seeks to amend Republic Act 8479 or the Downstream Oil Industry Deregulation Act of 1998. Though seen as the solution to the recurring deficit and to the economy's vulnerability to price shocks due to its dependence on imported oil, Acop noted that oil companies took advantage of the policy by hiking the prices of petroleum products by around 535 percent since the law's enactment, and has yet to solve or at least slow the effects of the global oil crisis.
"Prices have remained volatile upwards and sticky downwards vis-à-vis price movements of petroleum products in the world market. Worse, it appeared that the deregulation policy even strengthened the monopoly of the oil companies as automatic oil price hikes are allowed," said Acop.
If passed into law, violators will be penalized with a two-year prison term and a fine of P500,000.
Photo from SXC.hu