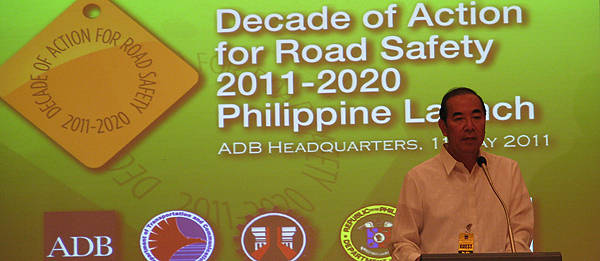 The United Nations (UN) has officially launched the Decade of Action for Road Safety program and the Philippines is taking an active part in promoting localized initiatives to address road-related safety concerns.
The government, through its departments and agencies as well as the private sector's stakeholders, are now working on programs in line with the UN's five pillars of activities to promote road safety by:
- building road safety management capacity;
- enhancing the safety features of road infrastructure;
- further developing the safety of vehicles;
- developing road safety behavior of road users; and
- improving emergency services.
According to Department of Transportation and Communications secretary Jose P. de Jesus, it is from this Global Plan that the government has come up with the Philippine Road Safety Action Plan.
"Prior to this global effort, the country has been actively reviewing and re-engineering its programs, activities and projects on road safety…to pursue the common goal of significantly reducing road crash fatalities and injuries by at least 50 percent annually," said de Jesus.
Department of Public Works and Highway (DPWH) secretary Rogelio Singson also enumerated the steps his office is taking in compliance with the Philippine Road Safety Action Plan, starting with the road safety assessment currently being conducted with the assistance of International Road Assessment Program (iRAP) Philippines and its anti-truck overloading operations.
Continue reading below ↓
Recommended Videos
"When we started cracking down on overloaded trucks last February, around 18 percent of the trucks we'd stop were overloaded. Now, it's down to two percent so we know that what we're doing is working," Singson said. "With the help of iRAP Philippines, we're now assessing the safety of our road networks and if we need to widen a road to make it safer, then we'll do it."
Singson shared that it was only in recent years that the DPWH has taken a conscious effort in implementing road safety in its projects and that the department is now working on the plans it has in place for up to 2016.
De Jesus cautioned though that unless road users cooperate in accomplishing the goals of the Philippine Road Safety Action Plan by making road safety a way of life, the plan "will not be worth the paper it is written on."
As a start, road users are encouraged to make a "road safety pledge" to promote safer roads and vehicles by:
- not using mobile phones while driving;
- not driving under the influence of alcohol or drugs;
- always using a seatbelt while driving or riding a car;
- keeping cars in good, roadworthy condition;
- not being goaded by aggressive motorists;
- not to throwing garbage out of the car; and
- always observing and following the road law, rules and regulations.
A Road Safety Tag was also introduced as a global symbol for the 10-year campaign, with the yellow, diamond-shaped logo expected to become a globally recognized icon, like the red ribbon is to AIDS/HIV awareness.
What will you do to ensure that our roads will be much safer by 2020?
In photo: DPWH secretary Rogelio Singson