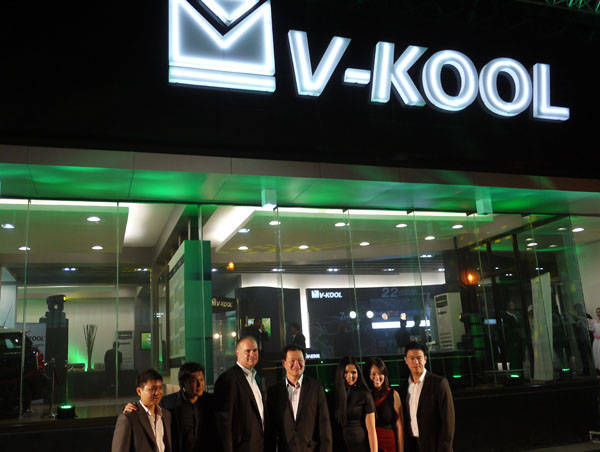 In a grand opening where the organizers literally closed the street down, V-Kool Philippines unveiled its green store concept in Otis, Manila, on September 11.
Officers from Eastman Chemicals, the company that makes V-Kool tint, joined the event. The top brass in attendance included Travis Smith, vice president and general manager of Performance Films (PF); Wilson Lim, commercial director of PF; Denise Giam, country manager of V-Kool International (VKI); Peter Wong, business management head of VKI; and Mae Liew, strategic branding and marketing manager of VKI.
The event timeline strayed a bit from the norm. There was a press conference first, and then an open forum. The guests were then directed to the covered facade where young ballerinas danced to earth-themed chants. As the girls performed, a slide presentation of V-Kool's environment efforts was displayed on a large video screen.
The presentation was about V-Kool's Envirocare Facebook campaign called "One-Like One-Tree." For every 'like' the premium tint receives on its Facebook page, a tree will be planted. The goal is to plant 20,000 trees. The official V-Kool website was also introduced. This will give those who want to know more about the products access to more information.
The highlight of the evening was the unveiling of the showroom itself. V-Kool Philippines president Willy Tee Ten and general manager Lordan Marco led the formal reveal, accompanied by their counterparts from VKI.
Continue reading below ↓
Recommended Videos
The V-Kool concept store had to follow strict guidelines. There was careful selection of wall paints and air-conditioning units, among other considerations. Even the marketing collaterals used during the event were eco-friendly.
Inside and outside the green showroom were automobiles installed with V-Kool tint. There were Mini and Ford vehicles--including a macho Ford Mustang. Tee Ten is also behind the local distributor of Mini as well as the multibrand dealership network Autohub.
Photos by Dinzo Tabamo
[gallery]1258[gallery]