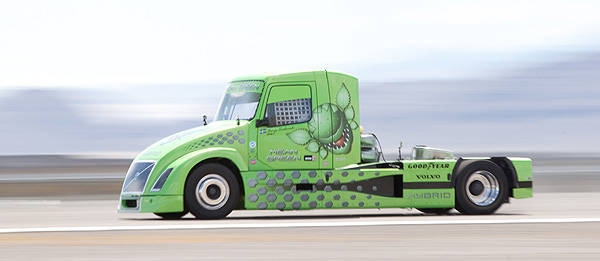 The Volvo hybrid truck known as Mean Green has set two world speed records, with the flying kilometer run being taken at 236.577kph, and the standing kilometer figure being set at 153.252kph at the Wendover Airfield in Utah.
"We are very pleased with Mean Green's performance, especially at such a high altitude," said Boije Ovebrink, Mean Green's driver and owner. "We knew Wendover would present challenges because it's more than 4,200ft above sea level."
In the process of breaking the world records, Mean Green eclipsed the ones it set in June 2011 at Hultsfred Airport in Sweden where the truck drove the flying kilometer at 218.78kph and achieved the standing kilometer at 152.253kph.
Though the truck's body has been thoroughly modified for the sake of aerodynamics, it still consists almost entirely of production components from Volvo, including a Volvo VN cab and frame.
Mean Green uses a highly tuned Volvo D16 engine and a modified version of the Swedish carmaker's automated I-Shift gearbox that interacts with the electric motor. The combination of the Volvo D16 diesel mill and the electric motor gives Mean Green an output of 2,100hp and nearly 6,780Nm of torque, of which 200hp and 1,200Nm of torque are produced by the electric motor alone.
ADVERTISEMENT - CONTINUE READING BELOW ↓
If you're viewing this on a mobile device and can't see the video, please click here.
ADVERTISEMENT - CONTINUE READING BELOW ↓
Recommended Videos