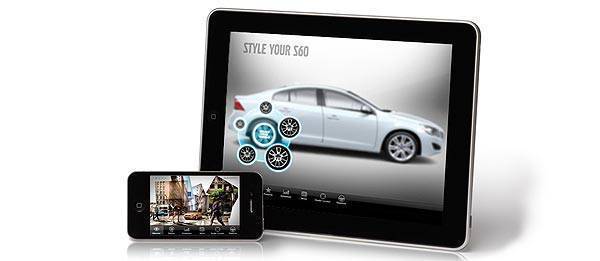 Want to pretend your daily beater is an all-new Volvo S60? Then the Swedish carmaker suggests that you drop by the Apple App Store and download the S60 app.
Made for the iPhone and the iPad, the S60 app allows its users to experience the S60 like no other carmaker has offered for any of its respective vehicles.
One feature is the configurator, which allows the users to style an S60 to his or her specific taste. There's also a search tool that uses the built-in Global Positioning System (GPS) function to locate and specify the route to the nearest Volvo dealer, and even book a test drive for the S60. These new functions are all linked to Volvo's local site where one can access the latest news from the Swedish brand.
One feature that's worth really trying out, though, is one that makes use of the built-in gyro "to look around inside the car."
"If you turn the phone, the image viewed moves too, creating the impression that you're actually sitting inside the car," explains David Holecek, Volvo Cars' interactive marketing manager.
More apps will be rolled out for Volvo's other models in conjunction with the Geneva Motor Show. Holecek also revealed that in some markets, Volvo even offers iPhone and Android apps that control the car's heater for customers who subscribe to the Volvo On Call system.
Continue reading below ↓
Recommended Videos
An iPad app containing Volvo Cars' customer magazine, LIV, will also be launched soon. It will provide access to some of the magazine's content as well as a variety of bonuses like extra graphic image and film material.
"Many customers use mobile phones and Internet tablets to search for information. Now we're simply ensuring that we are where our customers are, opening a window into the company," Holecek added.
All Volvo Cars' apps will be available for free downloading from the Apple App Store.