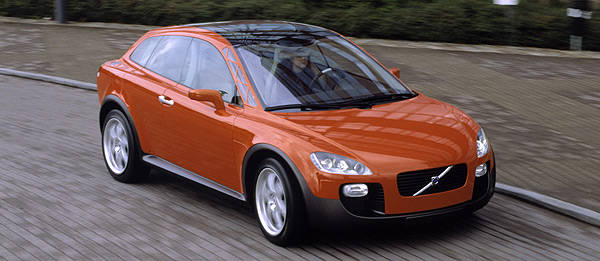 Volvo is celebrating the 10th anniversary of its Safety Concept Car (SCC), which made its debut at the 2001 North American International Auto Show.
"Concept vehicles are usually design or technology studies that give car buyers a taste of the future," said Volvo Car Corporation president and chief executive Stefan Jacoby. "The Volvo SCC, however, has added impact because it was both attractive and high-tech. It is an early example of how we design our cars around our customers' wishes, needs and limitations."
Though the SCC's most obvious contribution to Volvo's current production lineup is that its design elements served as the inspiration of the C30 compact hatchback, 14 of its technological safety solutions can now be found in the Swedish carmaker's current model range. These are:
* Forward collision warning - Now on its third generation with pedestrian detection, collision warning and full-auto brake. There's also the City Safety low-speed braking system, which is fitted as standard to several Volvo models.
* Information projected on the windscreen - The head-up display, which is part of the collision-warning system.
* Blind Spot Information System (BLIS) - Technology that monitors vehicles in the "blind spot" and alerts the driver.
* Lane Departure Warning and Driver Alert - Warning system to alert the driver from straying out of the lane.
Continue reading below ↓
Recommended Videos
* Cruise control - Maintains a set distance behind the vehicle in front. The present adaptive cruise control operates all the way down to standstill in cars with automatic transmission.
* Flashing brake lights during hard braking - Known today as emergency brake lights.
* Safety cameras - Today there are integrated reversing camera and grille-mounted camera offering drivers a 180-degree field of vision. A camera is also a key component in the pedestrian-detection and collision-warning system.
* Advanced headlights - Now known as active bending lights, these lights follow the curvature of the road as the car turns.
* Further-developed Human Machine Interface - Now known as Volvo Sensus, the carmaker's new interactive entertainment and information system.
* Height-adjustable rear seat - Present today in the integrated two-stage child booster cushions.
* Protection for pedestrians - Today, this system is found as the energy-absorbing front structure and bonnet and in pedestrian detection.
* Steering wheel adjustable for height and reach - Fitted today as standard.
* Passive unlocking and engine starting - Known today as Keyless Go.
* Communication with the car via mobile phone - Via a newly developed mobile application that was introduced in the second quarter of 2011.
"When the Volvo SCC was unveiled, it was packed with sensational technology. Bearing in mind the interest of the car-buying public in active safety systems today, it's easy to see that the concept car was way ahead of its time. It's evidence that Volvo is and will remain at the cutting edge when it comes to automotive safety," said Mikael Edvardsson, one of the engineers responsible of the technology integrated into the Safety Concept Car