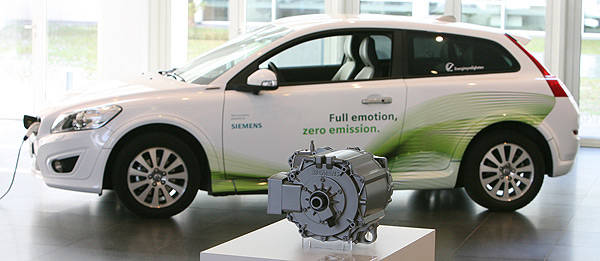 Volvo has teamed up with Siemens to jointly develop electric cars, starting with the electrical drive technology, power electronics, charging technology and the integration of these systems into the Swedish carmaker's C30 compact hatchback.
"We are extremely happy to have Siemens as a partner. Their world-leading knowledge and experience will bring the technology in our electric cars up to an entirely new level," said Volvo Car Corporation president and chief executive, Stefan Jacoby.
The first of Volvo's C30 electric cars will be fitted with Siemens electric motors and driven on test tracks at the end of this year. By late 2012, the carmaker hopes to deliver up to 200 test vehicles to Siemens, which will then be tested and validated under real-life conditions as part of the German engineering conglomerate's internal test fleet.
"Cooperation with Volvo is an important milestone in the development of top quality components and systems for electric cars subsequently intended for series production", said Siegfried Russwurm, a member of the Siemens managing board and chief executive of the Siemens Industry Sector. "It is our long-term goal to establish Siemens as a global system provider with solutions both inside and outside of electric vehicles. We see ourselves as a comprehensive electric mobility pioneer."
ADVERTISEMENT - CONTINUE READING BELOW ↓
The Siemens electric motors for Volvo are modular in design and very compact, and have a power output of 108kW (roughly 144hp) and 220Nm of torque. The inverter design will be jointly optimized to meet all safety requirements in an automotive application. In addition, Siemens will provide highly efficient and fast on-board and off-board charging systems.
ADVERTISEMENT - CONTINUE READING BELOW ↓
Recommended Videos