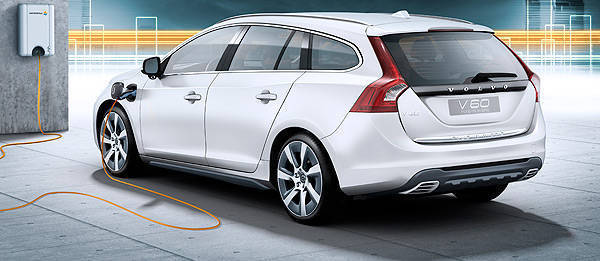 Volvo will soon be entering the hybrid-car market as the V60 plug-in hybrid will reach the Swedish carmaker's showrooms in 2012.
"The second-generation hybrid is the perfect choice for the uncompromising buyer who wants a superbly carbon-dioxide-lean car packed with driving pleasure," said Volvo Cars president and chief executive Stefan Jacoby.
Powering the front wheels of the Volvo V60 plug-in hybrid will be a five-cylinder 2.4-liter turbodiesel engine that produces 215hp and 440Nm of torque. The rear wheels will be propelled by an electric motor that draws its power from a 12kWh lithium-ion battery pack to put out 70hp. Completing the car's drivetrain is a six-speed automatic transmission.
Volvo is packaging the car as three different car types rolled into "one, single attractive sports wagon" with a push of a button.
In Pure driving mode, the V60 plug-in hybrid runs only on its electric motor as much as possible. If the battery has been recharged using electricity from a renewable source, the car has a driving range of up to 50 kilometers and has zero carbon dioxide emissions.
For the Hybrid mode, which is also the default mode, the diesel engine and electric motor interact to provide the optimal balance between driving pleasure and low environmental impact. In this mode, the V60 plug-in hybrid's carbon dioxide emissions average at just 49g/km while fuel efficiency is at 52.632 kilometers per liter. I'ts also possible for the driver to key in the planned route's distance in the car setup menu to let the control system calculate the balance between diesel and electric power to obtain the lowest possible carbon dioxide emissions for the given distance.
Continue reading below ↓
Recommended Videos
With the Power mode, the V60 plug-in hybrid becomes a muscular, fun-to-drive car with a combined output of 285hp, 640 Nm of torque and a zero-to-100kph acceleration time of just 6.9 seconds.
"In order to get true car enthusiasts to think green, you have to offer them the opportunity to drive with low carbon dioxide emissions without taking away the adrenaline rush that promotes genuine driving pleasure. The V60 Plug-in Hybrid has all the traditional properties of a genuine sports wagon. What we've done is to spice it up with spearhead technology that allows the driver to choose: zero emissions, high-efficiency hybrid or full-on performance. Just select the mode that suits best," Jacoby said.
Other features in the V60 plug-in hybrid include an electronic all-wheel drive capability, two-step regenerative braking system and plug-in recharging capability via a regular power socket.