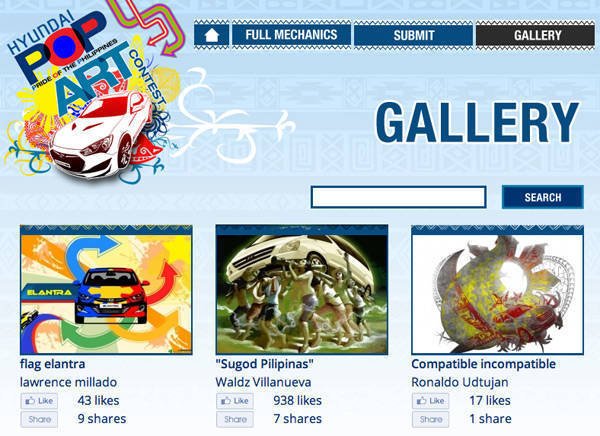 In order to make its 2013 calendar, Hyundai Asia Resources Inc. brilliantly thought of holding a digital art contest called "Hyundai POP (Pride of the Philippines) Art." Declaring that the aim of the contest is "to promote young, homegrown talent, and showcase the beauty and uniqueness of Filipino art," Hyundai invited Pinoy artists to come up with digitally rendered or vectorized artwork, promising that the 12 winning entries will be featured in HARI's calendar for next year.
Well, it's now your turn to help the company pick the top 12 entries. You can do that by visiting (and liking, if you haven't done so) Hyundai Philippines' Facebook page and then launching the Hyundai POP Art app found on the page. Then you go to the "Gallery" section and start liking the entries that you, well, like. HARI says you can like as many entries as you want (in fact, you can like every single entry if you're so inclined). Also, you may repeatedly vote for the same entry every day (there's a daily limit of one vote per entry). A warning, though: You will need to be very patient as there are hundreds of entries--many of which, we must admit, will be worth your time and effort.
Continue reading below ↓
Recommended Videos
The voting period officially started yesterday, October 16, and will run until October 28, 2012. Facebook votes will make up 20 percent of the judging criteria.
The 12 winners, aside from having their artwork included in HARI's 2013 calendar, will each receive P50,000 in cash. What's in it for the voters? HARI will draw 50 voters and reward them with "exclusive Hyundai merchandise."
We checked out the gallery and tried to pick our 12 favorite entries. Below are our choices. It will be truly interesting to see how many of our choices make it to the 2013 Hyundai Philippines calendar.