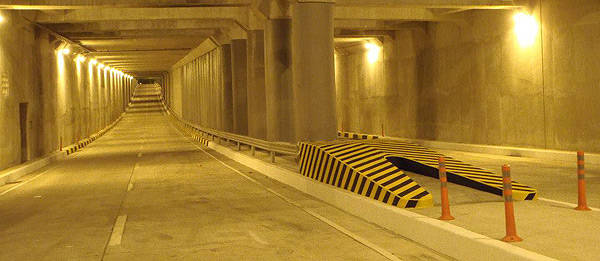 The Department of Public Works and Highway (DPWH) has confirmed it: The underpass underneath the intersection of Quezon Avenue and Araneta Avenue will be opened to the motoring public this Friday, September 28.
Just before it opens in time for the weekend, let's look at the facts and figures behind the C-3 (Araneta Avenue)/Quezon Avenue Interchange Project.
* Originally scheduled to be completed by December 10, 2012, the underpass has been completed ahead of schedule after DPWH secretary Rogelio Singson ordered that work on the project be done 24 hours a day, seven days a week, "to accelerate work completion and minimize traffic inconvenience" after it commenced on June 20, 2011.
* Despite having an approved budget of P534 million, which was sourced from national government funds, the underpass reportedly only cost taxpayers P452 million, "saving us" P82 million in the process.
* Besides involving the construction of a depressed underpass with a length of 440 lineal meters and 330 lineal meters, the project also included the installation of three submersible pumps, each with an individual capacity of 277L per second, and is backed up by a power house with a generating set and a motor circuit control that are ready to operate depending on the intensity of the rain.
Continue reading below ↓
Recommended Videos
* The DPWH also constructed water cisterns beneath the underpass and built reinforced concrete boxes and pipe culverts to help manage flooding.
* The project also covers the widening of the Mariblo Bridge, improvement of service roads, and a provision for street lighting, pavement markings, and traffic signs.
* Based on a strategic traffic master plan jointly conducted by the Japan International Cooperating Agency and the University of the Philippines' National Center for Transportation Studies, the Quezon Avenue underpass project is ranked number one as "the most feasible with the least cost to improve traffic condition along Quezon Avenue and Araneta Avenue."
* The project will also complement other transport development plans that are being looked at along Quezon Avenue, like the LRT Line 4 and the Skyway Phase 3.
Photo from Ravien Bracero's Facebook page