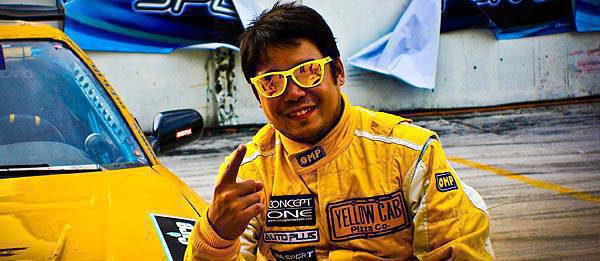 The Yellow Cab Drift Team ended the 2010 Glade Sport Lateral Drift Pro-Am Championship on a high note with team members Alex Perez and Ryan Agoncillo taking first and second place, respectively.
The rain combined with his experience and good fortune allowed Perez to secure his fifth consecutive Glade Sport Lateral Drift Championship series' title in the professional division.
"Rain has always been my kryptonite when I'm competing, so when Gio (Rodriguez of A-Toy Bodykits) started to spin out, I managed to keep the car in control just enough to win the championship," Perez said. "Gio is a tough competitor. He was my student before and I'm sure we'll see him fighting for the championship again next year."
Agoncillo, on the other hand leapfrogged three other contenders to finish second in the amateur division of the Glade Sport series.
"It was a tough race being down in fifth place before the start of the final round," Agoncillo said. "I gave it everything, and even though I could only manage second place, that's good enough for me. Let's face it, Bjorn (Ongtiabok) and Norman (Agojo) are great drivers so to finish ahead of them and behind Mike, that's not easy, so again, that's good enough for me."
ADVERTISEMENT - CONTINUE READING BELOW ↓
As the team's main sponsor for the past three years, Yellow Cab has nothing but praise for the drivers.
"We are proud to be supporting these hardworking and passionate individuals," said Yellow Cab marketing manager Alexandra Bustaliño. "Yellow Cab espouses the young, hip and adventurous lifestyle, and the Drift Team perfectly embodies these characteristics. Knowing how hard they train to perform well in their respective races, I can definitely say that they deserve all the support and recognition they can get."
Photos from Yellow Cab and Lateral Drift Productions