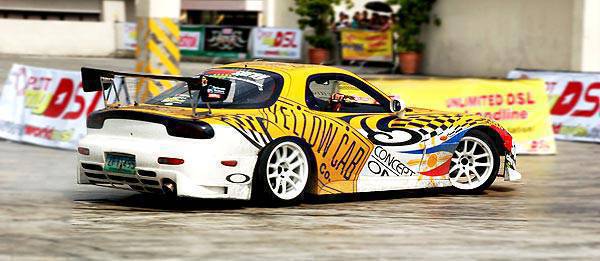 Members of the Yellow Cab Drift Team are confident of their chances in the Glade Sport Lateral Drift Pro-Am Championship with a three-man lineup in the competition's professional division.
The decision to field a three-man line-up next year--composed of five-time champion Alex Perez, Kevin Tayao, and Ryan Agoncillo--comes as Perez goes on "semi-retirement."
"I call it 'semi-retirement' because I won't be pushing hard next year," Perez told TopGear.com.ph. "I've already won five straight professional's titles so I believe it's time others get the chance to win the championship."
Perez said he will act as a buffer to support his teammate's races and make sure that the Yellow Cab Drift Team will get as much points as possible for all nine rounds in next year's Lateral Drift series.
Agoncillo, meanwhile, will be going pro after three years of competing in the amateur division.
"I'm practically overstaying in the amateur division," Agoncillo joked before turning serious. "The truth is, my competing in the Professional division next year is to my advantage. I'm up against the big boys so there's less pressure on me to compete. If I don't do good, then it's okay because I'm up against people who've been doing this on a professional level for years. But if I do manage to score points or finish in the podium, then that's a huge bonus for me."
Along with going pro, Agoncillo is also deciding whether to get turbochargers for his Nissan S13 or to concentrate on having it naturally-aspirated.
The biggest change for Agoncillo, however, concerns his impending fatherhood.
ADVERTISEMENT - CONTINUE READING BELOW ↓
"Judy Ann (Santos) has been very supportive of my drifting but if she wants me to stop, then that's that," Agoncillo said. "There will be no thinking about it. I'll readily drop everything for her and for our baby. The problem, though, is trying to keep her from drifting because she knows how to do it, and I think she's an even better drifter than I am."